Licks & Riffs : Evanescence - My Immortal
Evanscence's My Immortal starts from the tonic of the key of A major and moves up to the mediant (third). You can re-create the melody line by simply playing each note of right hand chord separately in crotchets, starting from the bottom note.

We think the influence of Enya is audible in this lovely track.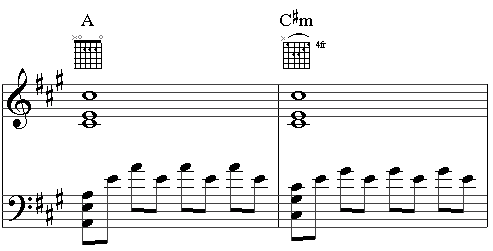 See also the riff for Bring Me To Life




Lyrics
I'm so tired of being here
Suppressed by all my childish fears
And if you have to leave
I wish that you would just leave
...

» View more lyrics for Evanescence : My Immortal on Google





Chords Used in Evanescence - My Immortal




Sheet Music to buy by Evanescence
| | |
| --- | --- |
| | My Immortal "By Evanescence. For voice, piano and guitar chords. This edition: Piano/Vocal/Chords. Artist/Personality; Piano/Vocal/Chords; Sheet; Solo. Pop Rock and Hard Rock. Difficulty: medium. Single. Vocal melody, piano accompaniment, lyrics, chord names and guit |
| | |
| --- | --- |
| | My Immortal - Easy Piano "By Evanescence. By Ben Moody, Amy Lee, and David Hodges. Arranged by Dan Coates. For voice and easy piano. Artist/Personality; Piano Solo - Popular Sheet; Solo. Pop Rock and Hard Rock. Difficulty: easy-medium. Single. Easy piano notation, lyrics and chor |
| | |
| --- | --- |
| | Fallen "(Piano/Vocal/Chords). By Evanescence. For voice, piano and guitar (chords only). This edition: Piano/Vocal/Chords. Artist/Personality; Personality Book; Piano/Vocal/Chords. Pop Rock and Hard Rock. Difficulty: medium to medium-difficult. Songbook. Vocal m |
| | |
| --- | --- |
| | Bring Me to Life "By Evanescence. For voice, piano and guitar chords. This edition: Piano/Vocal/Chords. Artist/Personality; Piano/Vocal/Chords; Sheet; Solo. Original Sheet Music Edition. Pop Rock and Hard Rock. Difficulty: medium. Single. Vocal melody, piano accompaniment |
| | |
| --- | --- |
| | The Open Door "(Piano/Vocal/Chords). By Evanescence. For voice, piano and guitar (chords only). This edition: Piano/Vocal/Chords. Artist/Personality; Personality Book; Piano/Vocal/Chords. P/V/C. Pop Rock and Hard Rock. Songbook. Vocal melody, lyrics, piano accompanimen |
| | |
| --- | --- |
| | Evanescence -- The Piano Style of Amy Lee (Piano/Vocal/Chords). By Evanescence. For Keyboard; Piano; Voice. This edition: Piano/Vocal/Chords. Artist/Personality; Personality Book; Piano/Vocal/Chords. Rock. Book. 72 pages. Published by Alfred Music Publishing |
| | |
| --- | --- |
| | My Immortal By Evanescence. For Piano/Vocal/Chords. Pop/Rock. 5 pages. Published by Alfred Music. Digital Sheet Music |
| | |
| --- | --- |
| | My Immortal "By Evanescence. By Ben Moody, Amy Lee, and David Hodges. For Easy Piano. Pop/Rock. 5 pages. Published by Alfred Music. Digital Sheet Music" |
| | |
| --- | --- |
| | Hello "By Evanescence. For piano, voice, and guitar (chords only). Metal; Pop; Rock. 5 pages. Published by Hal Leonard - Digital Sheet Music" |
| | |
| --- | --- |
| | Good Enough By Evanescence. For Piano/Vocal/Chords. Pop/Rock. 7 pages. Published by Alfred Music. Digital Sheet Music |
| | |
| --- | --- |
| | Evanescence -- Fallen (Easy Piano). Arranged by Carol Tornquist. For Piano. This edition: Easy Piano. Artist/Personality; Book; Piano - Personality Book; Piano Supplemental; Sing-Along. Rock. Easy Piano. 56 pages. Published by Alfred Music Publishing |
| | |
| --- | --- |
| | Anywhere But Home "(Piano/Vocal/Chords). By Evanescence. For voice, piano and guitar (chords only). This edition: Piano/Vocal/Chords. Artist/Personality; Personality Book; Piano/Vocal/Chords. Pop Rock and Hard Rock. Difficulty: medium. Songbook. Vocal melody, piano accompa |
| | |
| --- | --- |
| | Lacrymosa By Evanescence. For Piano/Vocal/Chords. Pop/Rock. 9 pages. Published by Alfred Music. Digital Sheet Music |
| | |
| --- | --- |
| | Sweet Sacrifice By Evanescence. For Piano/Vocal/Chords. Pop/Rock. 6 pages. Published by Alfred Music. Digital Sheet Music |
| | |
| --- | --- |
| | Fallen "(Authentic Guitar TAB). By Evanescence. For guitar and voice. This edition: Authentic Guitar TAB. Artist/Personality; Authentic Guitar TAB; Guitar Personality; Guitar TAB. Pop Rock and Hard Rock. Difficulty: medium. Guitar tablature songbook. Guitar tabl |
| | |
| --- | --- |
| | Lithium By Evanescence. For Piano/Vocal/Chords. Pop/Rock. 7 pages. Published by Alfred Music. Digital Sheet Music |
| | |
| --- | --- |
| | Bring Me to Life By Evanescence and Paul McCoy. For Piano/Vocal/Chords. Pop/Rock. 5 pages. Published by Alfred Music. Digital Sheet Music |
| | |
| --- | --- |
| | The Open Door "(Authentic Guitar TAB). By Evanescence. For guitar and voice. This edition: Authentic Guitar TAB. Artist/Personality; Authentic Guitar TAB; Guitar Personality; Guitar TAB. Pop Rock and Hard Rock. Guitar tablature songbook. Guitar tablature, standard nota |
| | |
| --- | --- |
| | Going Under "By Evanescence. By Ben Moody, Amy Lee, and David Hodges. For Piano/Vocal/Chords. Pop/Rock. 7 pages. Published by Alfred Music. Digital Sheet Music" |