Licks & Riffs : James Blunt - Youre Beautiful
MP3 Preview » James Blunt : Youre Beautiful



The basis for the intro and verse for James Blunt's "You're Beautiful" is a series of chords with a common held note:




The chords are Eb, Eb/D, Cminor7 and Ab major. The Eb is common to all these chords.

Eb/D means an Eb chord with a D in the bass. A common way to play this is to start with the major chord in the standard barred way: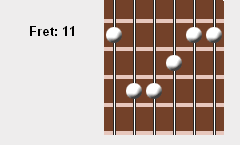 and then slide the second finger down the fret whilst keeping the other fingers in place: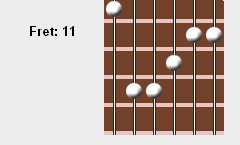 Now let's create a guitar riff in the style of the opening bars of the piece:




When we place this over the chord progression we saw above, you can begin to see how it pretty much fits with any of them - an economic use of notes!




Click below to buy the original sheet music for "You're beautiful":


You're Beautiful Performed by James Blunt. Piano Vocal (Arranged for piano and voice with guitar chords). Size 9x12 inches. 6 pages. Published by Hal Leonard. (353075)
See more info...
Lyrics
My life is brilliant,
My love is pure,
I saw an angel,
Of that I'm sure.

She smiled at me on the subway,
But she was...

» View more lyrics for James Blunt : Youre Beautiful on Google





Chords Used in James Blunt - Youre Beautiful








Sheet Music to buy by James Blunt
| | |
| --- | --- |
| | You're Beautiful "By James Blunt. For voice, piano and guitar (chords only). Piano Vocal. Pop and Pop Rock. Difficulty: medium. Single. Vocal melody, lyrics, piano accompaniment, chord names and guitar chord diagrams. 6 pages. Published by Hal Leonard" |
| | |
| --- | --- |
| | Goodbye My Lover By James Blunt. Piano Vocal. 12 pages. Published by Hal Leonard |
| | |
| --- | --- |
| | Back to Bedlam "By James Blunt. For voice, piano and guitar (chords only). P/V/C. The debut album from this soulful British rock crooner includes the smash hit You're Beautiful plus: High, Wisemen and So Long. Pop. Songbook. Vocal melody, lyrics, piano accompaniment, ch |
| | |
| --- | --- |
| | You're Beautiful By James Blunt. Easy Piano. 8 pages. Published by Berklee Press |
| | |
| --- | --- |
| | You're Beautiful "By James Blunt. For piano, voice, and guitar (chords only). Pop. 6 pages. Published by Hal Leonard - Digital Sheet Music" |
| | |
| --- | --- |
| | You're Beautiful By James Blunt. For easy piano. Love; Pop; Rock. 6 pages. Published by Hal Leonard - Digital Sheet Music |
| | |
| --- | --- |
| | You're Beautiful By James Blunt. Arranged by Michael Brown. Score & Parts. Score and full set of parts.. Young Concert Band. Grade 3. Published by Hal Leonard |