Licks & Riffs : Jamiroquai - Virtual Insanity
Jamiroquai is famous for his jazz inflected funk. In 'Virtual Insanity', he builds a chord progression around the oldest jazz trick in the book - the cycle of 5ths.

The progression is : Ebmin7 > Ab7 > Db9 > Gbmaj7 > Cdim7 > Cbmaj7 > Bb7#5

The only chord not a fifth from its neighbours is the Cbmaj7, which effectively substitutes the F-based chord which should have completed the cycle.






Listen carefully to this progression throughout the song and you'll find something cunning going on.

For starters it's only seven bars long, instead of the usual eight, so Jamiroquai sometimes shifts the whole progression to start on a different beat of the bar - clever stuff!

Try as below with bass note preceeding right hand chord for an added effect: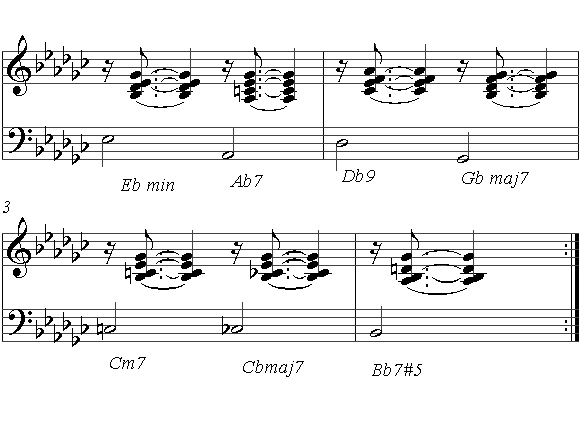 For another interesting example of the cycle of fifths, see our Norah Jones: 'Come Away With Me' riff lesson.



Related Items to purchase
Jazz & Funk Piano Style Disk (Yamaha) (Software for Yamaha keyboards). Floppy disk. Size 5x5.5 inches. Published by Hal Leonard. (503527)
See more info...
Al Jarreau: Since I Fell For You Performed by Al Jarreau, composed by Buddy Johnson. For voice, piano and guitar chords. Format: piano/vocal/chords single. With vocal melody, piano accompaniment, lyrics, chord names and guitar chord diagrams. Adult contemporary and smooth jazz. F Major. Series: Original Sheet Music. 8 pages. 9x12 inches. Published by Warner Brothers. (WB.VS4975)
See more info...
Art Tatum: The Art Tatum Solo Book Performed by Art Tatum. For solo piano. Format: piano solo book. With standard notation, chord names and introductory text. Jazz and swing. Series: Hal Leonard Artist Transcriptions. 77 pages. 9x12 inches. Published by Hal Leonard. (HL.672355)
See more info...