Licks & Riffs : Beethoven - Violin Concerto
Click to stop/start 'Violin Concerto' by Beethoven :
(The file may take around 10 seconds to load) (Requires Flash plug-in)


This is the main theme from the Rondo (3rd movement) of Beethoven's Violin Concerto, a piece bursting with life and energy. The part we've chosen here is taken from the very opening of the 3rd movement and features throughtout the movement in several different octaves. If you listen to the whole piece, see if you can hear how many times this theme returns - it's quite a few!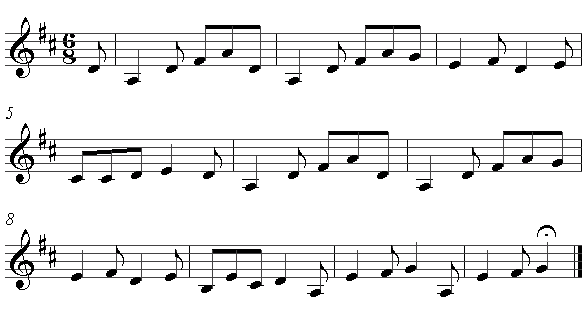 Sheet Music to buy by Beethoven
| | |
| --- | --- |
| | Fur Elise By Ludwig van Beethoven (1770-1827). For solo piano. Piano Solo Sheets. Classical Period. SMP Level 5 (Intermediate). Single piece. Standard notation (does not include words to the songs). 5 pages. Published by Hal Leonard |
| | |
| --- | --- |
| | "Moonlight Sonata, Op. 27, No. 2 (Complete)" "By Ludwig van Beethoven (1770-1827). Edited by Willard A. Palmer. For solo piano. Masterworks; Piano Solo; Solo. Alfred Masterwork Edition. Form: Sonata. Classical Period. SMP Level 10 (Advanced). Single piece. Standard notation, fingerings and introduct |
| | |
| --- | --- |
| | Moonlight Sonata - 1st Movement - Easy Piano By Ludwig van Beethoven (1770-1827). For easy solo piano. Hal Leonard Easy Adult Piano. Classical Period. SMP Level 3 (Early Intermediate). Single piece. Chord names and easy piano notation (does not include words to the songs). 4 pages. Published by Hal |
| | |
| --- | --- |
| | Fur Elise - Easy Piano By Ludwig van Beethoven (1770-1827). Edited by Dale Tucker. For easy solo piano. Masterworks; Piano Solo; Solo. Classics Made Easy Series. Classical Period. SMP Level 3 (Early Intermediate). Single piece. Fingerings and easy piano notation (does not inclu |
| | |
| --- | --- |
| | "Joyful, Joyful (from Sister Act 2)" "((from Sister Act 2)). By Ludwig van Beethoven (1770-1827). Arranged by Mervyn Warren. For SATB choir and piano accompaniment (SATB). Choral. Choral. Movies, Pop and Gospel. Octavo. Chord names. 12 pages. Published by Hal Leonard" |
| | |
| --- | --- |
| | Klaviersonaten - Band I "By Ludwig van Beethoven (1770-1827). Edited by Bertha Antonia Wallner. For solo piano. Piano (Harpsichord), 2-hands. Urtext Editions. Pages: 283. Classical Period. SMP Level 10 (Advanced). Collection. Standard notation, fingerings, introductory text and |
| | |
| --- | --- |
| | Klaviersonaten - Band II "By Ludwig van Beethoven (1770-1827). Edited by Bertha Antonia Wallner. For solo piano. Piano (Harpsichord), 2-hands. Urtext Editions. Pages: 330. Classical Period. SMP Level 10 (Advanced). Collection. Standard notation, fingerings and thematic index (doe |
| | |
| --- | --- |
| | Piano sonata C minor - Op. 13 [Grande Sonate Pathetique] "(Piano Solo). By Ludwig van Beethoven (1770-1827). Edited by Bertha Antonia Wallner. For solo piano. Piano (Harpsichord), 2-hands. Henle Music Folios. Urtext edition-paper bound. Classical Period. SMP Level 9 (Advanced). Single piece. 19 pages. G. Henle |
| | |
| --- | --- |
| | "Complete Piano Sonatas, Vol. 1" By Ludwig van Beethoven (1770-1827). Edited by Heinrich Schenker. For solo piano. Piano Collection. Dover Edition. Classical Period. SMP Level 10 (Advanced). Collection. Introductory text (does not include words to the songs). 296 pages. Published by Dove |
| | |
| --- | --- |
| | Moonlight Sonata - First Movement - Easy Piano "By Ludwig van Beethoven (1770-1827). For easy solo piano. Masterworks; Piano Solo; Solo. Classics Made Easy Series. Form: Sonata. Classical Period. SMP Level 3 (Early Intermediate). Single piece. Fingerings (does not include words to the songs). Opus 27, |
| | |
| --- | --- |
| | Moonlight Sonata "(First movement). By Ludwig van Beethoven (1770-1827). Arranged by Alexander Gluklikh. For solo guitar. This edition: Classical Guitar TAB. Classical Guitar Solo; Guitar TAB; Masterworks; Solo; Solo Guitar TAB (EZ/Int). CPP Classical Guitar Tab Editions. |
| | |
| --- | --- |
| | Sonatas for Piano and Violin - Volume I By Ludwig van Beethoven (1770-1827). Edited by Sieghard Brandenburg. For Violin and piano. Violin. Henle Music Folios. Urtext edition-paper bound. Classical Period. Collection and set of performance parts. Bowings and fingerings. 159 pages. G. Henle Verla |
| | |
| --- | --- |
| | Three Duets for Violin and Cello By Ludwig van Beethoven (1770-1827). Duet or Duo; Masterworks; String Duo - Violin and Cello. Kalmus Edition. Classical; Masterwork; Romantic. Book. 32 pages. Published by Alfred Music Publishing |
| | |
| --- | --- |
| | "Sonatas for Piano and Violin, Volume II" "By Ludwig van Beethoven (1770-1827). Edited by Sieghard Brandenburg. For Violin and piano. Violin. Henle Music Folios. Urtext edition-paper bound. Classical Period. Collection and set of performance parts. Introductory text, bowings and fingerings. 254 p |
| | |
| --- | --- |
| | "Complete Piano Sonatas, Vol. 2" "By Ludwig van Beethoven (1770-1827). Edited by Heinrich Schenker. For solo piano. Piano Collection. Dover Edition. Classical Period. SMP Level 10 (Advanced). Collection. Standard notation, fingerings and introductory text (does not include words to the s |
| | |
| --- | --- |
| | Beethoven Selected Works For Piano By Ludwig van Beethoven (1770-1827). Edited by Keith Snell. For piano. Neil A. Kjos Master Composer Library. Intermediate. Sheet music. Published by Neil A. Kjos Music Company |
| | |
| --- | --- |
| | Sonatas - Cello and Piano (Complete) "By Ludwig van Beethoven (1770-1827). Edited by Walter Schulz. For cello solo and piano accompaniment. Classical Period. Difficulty: medium-difficult. Instrumental solo book. Solo part, standard notation, bowings, fingerings, piano accompaniment and thema |
| | |
| --- | --- |
| | Complete bagatelles "(Piano Solo). By Ludwig van Beethoven (1770-1827). Edited by Otto von Irmer. For solo piano. Piano (Harpsichord), 2-hands. Henle Music Folios. Urtext edition-paper bound. Classical Period. SMP Level 10 (Advanced). Collection. Introductory text and perfor |