The Mouthpiece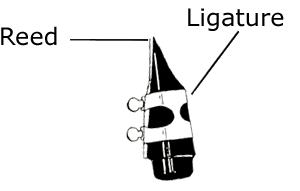 Getting the right set up of mouthpiece and reed is essential to good sax playing. There are a huge variety of saxophones, mouthpieces and reeds out there, so it's well worth getting a qualified person to help you out with the right set up.

There are however some things you can check for yourself :
The reed should be centred squarely on the mouthpiece
The tip of the reed should be level with the tip of the mouthpiece
You may find adjusting the ligature slightly up or down improves the air movement through the reed.
Mouth Position