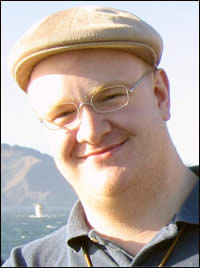 About the author
Ricci Adams first envisioned Musictheory.net during his senior year of high school. Soon afterwards, he created his first lesson: The Staff, Clefs, and Ledger Lines. The Interval Ear Trainer was developed a few weeks later and the site officially launched on January 1, 2000. Since that date, he has authored over thirty new lessons and several new trainers.
In May of 2004, Adams graduated magna cum laude from Millikin University with a Bachelor of Science degree in Computer Science. He currently lives and works in Cupertino, CA as a Firmware Engineer. In his spare time, he works on new additions to his website as well as other projects which blend music and technology.
What software, hardware, and technologies were used to create this site?
All of the lesson animations and trainer interfaces were created using Macromedia Flash MX 2004. The lesson content and trainer text use a customized XML definition and were edited in BBEdit 8. All sound clips were made in Apple Logic Express 7 using Apple GarageBand and Garritan Personal Orchestra software instruments. Template webpages were designed using Macromedia Dreamwaver MX 2004 and Fireworks MX 2004.
In order to create the final product, a custom build script was written in the PHP language. This script loads and generates all of the content pages from the template, animation, and XML files. It also packages the offline edition of the site and links to it on the Downloads page. Prior to upload, the script passes all HTML files through HTML Tidy, an open source web page cleaner and formatter.
The majority of the 2005 update was created using a Powerbook while sitting at Coffee Society, a local European-style cafe which provides free wireless high-speed Internet access.