Amog the Blue Flowers and Yellow
Sheet music for Treble Clef Instrument
Amog the Blue Flowers and Yellow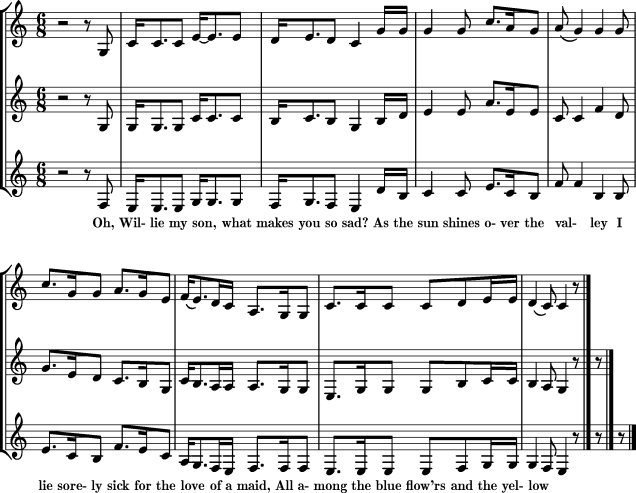 Among the Blue Flowers and the Yellow
"Oh, Willie, my son, what makes ye so sad?"
As the sun shines over the valley
"I lie sorely sick for the love of a maid."
Among the blue flow'rs and the yellow.
"Oh, is she an heiress or lady fine?"
"That she winna take nae pity on thee?"
"Oh, Willie, my son, lay doon in your bed."
"And I will go tell her that my young son is dead."
And the lady came doon frae her castle sae high
Not knowing her Willie would sicken and die.
As she looked into the coffin and pall
He pulled her doon by him and lay her ni'est the wall.
"Though all of your kin were aboot yon bower
Ye shall no be a maiden one single hour."
"For a maid ye came here wi' oot a convoy
And ye shall return wi' a horse and a boy."
"Ye came here a maiden sae meek and sae mild
But ye shall gae hame a wedded wife wi' a child."
Note: sort of a mixture of Lord Randall, Willie's Lyke-Wake and
a couple of others. RG
From Harmonious Companions, Myers
Transcribed from the singing of Gordeanna McCulloch
RG
Sorry, parts requests not available for this piece
Why?
Score Transpositions

No alternative transpositions yet
Sorry, transposition requests not available for this piece
Why?
PDF
More Versions
Arrangements of this piece also available for: