The Bonnie Ship the Diamond
Sheet music for Treble Clef Instrument
The Bonnie Ship the Diamond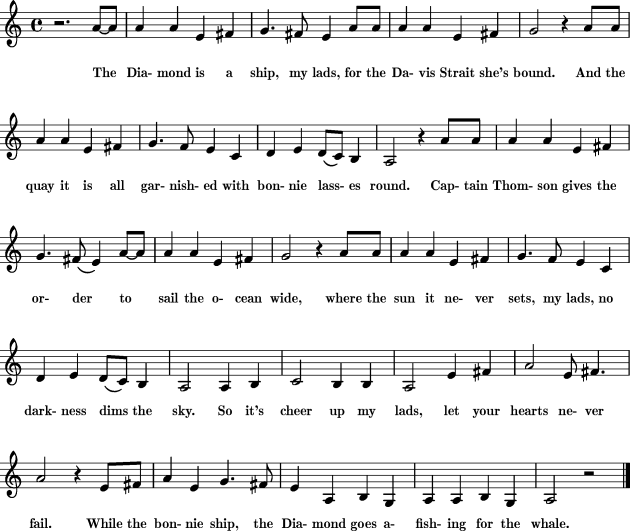 The Bonny Ship the Diamond
The Diamond is a ship, my lads, for the Davis Strait she's bound,
And the quay it is all garnished with bonny lasses 'round;
Captain Thompson gives the order to sail the ocean wide,
Where the sun it never sets, my lads, no darkness dims the sky,
cho: So it's cheer up my lads, let your hearts never fail,
While the bonny ship, the Diamond, goes a-fishing for the whale.
Along the quay at Peterhead, the lasses stand aroon,
Wi' their shawls all pulled around them and the saut tears runnin' doon;
Don't you weep, my bonny lass, though you be left behind,
For the rose will grow on Greenland's ice before we change our mind.
cho:
Here's a health to the Resolution, likewise the Eliza Swan,
Here's a health to the Battler of Montrose and the Diamond, ship of fame;
We wear the trouser o' the white and the jackets o' the blue,
When we return to Peterhead, we'll hae sweethearts anoo,
cho:
It'll be bricht both day and nicht when the Greenland lads come hame,
Wi' a ship that's fu' of oil, my lads, and money to our name;
We'll make the cradles for to rock and the blankets for to tear,
And every lass in Peterhead sing "Hushabye, my dear"
cho:
NOTE: An alternate chorus, commemorating a somewhat different example of
being all at sea, is:
So it's cheer up, my lads, let us sing like the birds!
While bonny David Diamond goes a-fishing for the words. RG
RG
MIDI

To save these files to your local computer try 'right click, then save link as' on a PC; or 'hold down cmd and click, then save link as' on a Mac




MP3

(subscribers only)

To save these files to your local computer try 'right click, then save link as' on a PC; or 'hold down cmd and click, then save link as' on a Mac
About 'The Bonnie Ship the Diamond'





Artist:

The Artist:

Traditional Music of unknown author.


Tags:
Close X
Thank you for trying the 8notes.com Audio & Transposition features
You have reached your limit for today.
Please subscribe for unlimited playback & transpositions
Individual Subscriptions:

Click here for more info on subscriptions