Beautiful Rose
Sheet music for Treble Clef Instrument
Beautiful Rose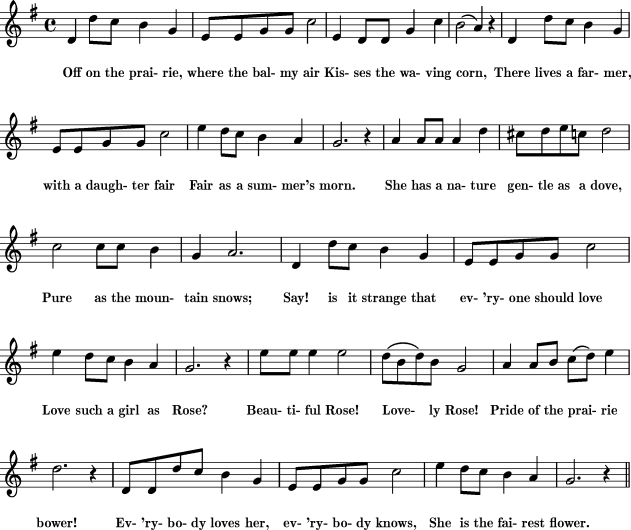 Beautiful Rose
(Henry Clay Work)
Out on the prairie, where the balmy air
Kisses the waving corn,
There lives a farmer, with a daughter fair
Fair as a summer's morn.
She has a nature gentle as a dove,
Pure as the mountain snows;
Say! is it strange that ev'ryone should love
Love such a girl as Rose?
cho: Beautiful Rose! Lovely Rose!
Pride of the prairie bower!
Ev'rybody loves her, ev'ry body knows,
She is the fairest flower.
Rose is a lady, yet from early dawn
Labors her skillful hand;
She is the housewife, now her mother's gone
Gone to the better land.
Rose has the beauty, father has the gold
Both will be hers one day,
For she is young, while he is growing old
Old people pass away.
Clerks from the city, plowmen from the field
Lords from a foreign land
Each in turn have very humbly kneeled
Kneeled for her heart and hand.
But to them all she made the same reply
Kindly, but firmly, "No!"
And none but I can tel the reason why,
Why she should treat them so.
From Songs of Henry Clay Work, Work
RG
apr96
Sorry, parts requests not available for this piece
Why?
Score Transpositions

No alternative transpositions yet
Sorry, transposition requests not available for this piece
Why?
PDF
More Versions
Arrangements of this piece also available for: