The Bells of St. Marys
Sheet music for Treble Clef Instrument
The Bells of St. Marys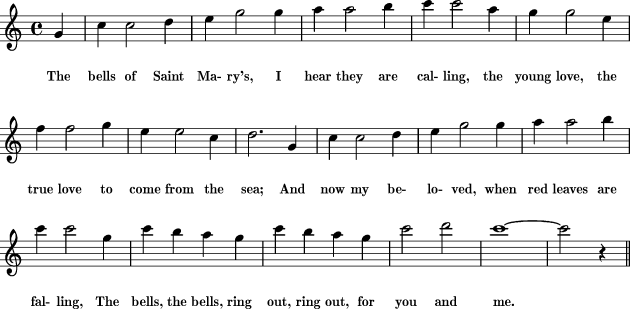 The Bells of St Mary's
(words, Douglas Furber; music, Emmett Adams, 1917)
cho: The bells of St. Mary's. Ah! hear they are calling,
The young loves, the true loves, who come from the sea.
And so, my beloved, when red leaves are falling,
The love bells shall ring out, ring out for you and me.
The bells of St. Mary's at sweet even time,
Shall call me, beloved, to come to your side
And out in the valley in sound of the sea
I know you'll be waiting, yes, waiting for me.
At the porch of St. Mary's, I'll wait there for you,
In your soft wedding dress with its ribbons of blue,
In the church of St. Mary's, sweet voices shall sing,
For you and me, dearest, the wedding bells ring.
(recorded by Bing Crosby for the 1946 film, "The Bells of St. Mary's)
Copyright Chappell & Co. 1917
RG
oct00
About 'The Bells of St. Marys'
The Artist:
Traditional Music of unknown author.

Close X
Thank you for trying the 8notes.com Audio & Transposition features
You have reached your limit for today.
Please subscribe for unlimited playback & transpositions
Individual Subscriptions:

Click here for more info on subscriptions