Bingo In the Morning
Sheet music for Treble Clef Instrument
Bingo In the Morning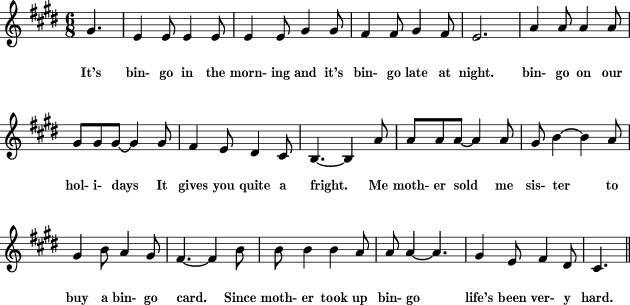 Bingo in the Morning
(Mike Donald)
Once we had a lovely house; we even owned a yacht,
Now we have a caravan parked on the Council plot.
The cousin's playing Bingo, me Grannies at it too.
You'd better watch the Bingo, it's worse than Asian 'flu,
Cho: It's Bingo in the morning and it's Bingo late at night
It's Bingo on our holidays - it gives you quite a fright
Me mother sold me sister to buy a Bingo card
Since mother took up Bingo, life's been very hard
The family had a funeral to lay an Aunt to rest,
So many solemn faces the Vicar tried his best
By shouting out the numbers so the people they could play
And someone shouted Bingo as the coffin slid away.
After courting ten years I decided I should wed.
I went to see the Doctor and the guidance books I read
But when I popped the question, my heart it really sank
I can't get married Saturday, it's Bingo at Top Rank.
copyright EFDS Publications 1974
SOF
Sorry, parts requests not available for this piece
Why?
Score Transpositions

No alternative transpositions yet
Sorry, transposition requests not available for this piece
Why?
PDF
More Versions
Arrangements of this piece also available for: