Round Cape Horn
Sheet music for Treble Clef Instrument
Round Cape Horn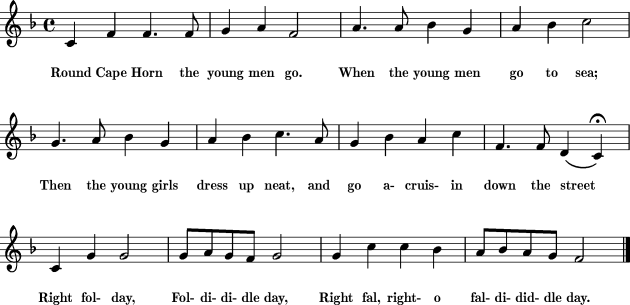 Around Cape Horn
D A7 D
Around Cape Horn the young men go
A7 D
When the young men go away
A7 D
Then the young girls dress up neat
D G
They go a-cruisin' down the street
A7
REFRAIN: Right fol day, fol-de-diddle day
A7 D
Right fol right-o, fol-de-diddle day
Far from the fields are the young men gone
Far from home and all forlorn
Wish to God they'd never been born
For to go out cruisin' round Cape Horn ...
And when those young men do come home
This is the story that they hear
"Welcome home, you need not fear
No one has courted me, my dear." ...
Bright false smiles they like for to wear
Bright false bows in long false hair
White satin shoe with a silver bow
Take those young men all in tow ...
From Gale Huntington, Songs the Whalemen Sang
RPf
About 'Round Cape Horn'
The Artist:
Traditional Music of unknown author.

Close X
Thank you for trying the 8notes.com Audio & Transposition features
You have reached your limit for today.
Please subscribe for unlimited playback & transpositions
Individual Subscriptions:

Click here for more info on subscriptions