The Cloakmakers' Union
Sheet music for Treble Clef Instrument
The Cloakmakers' Union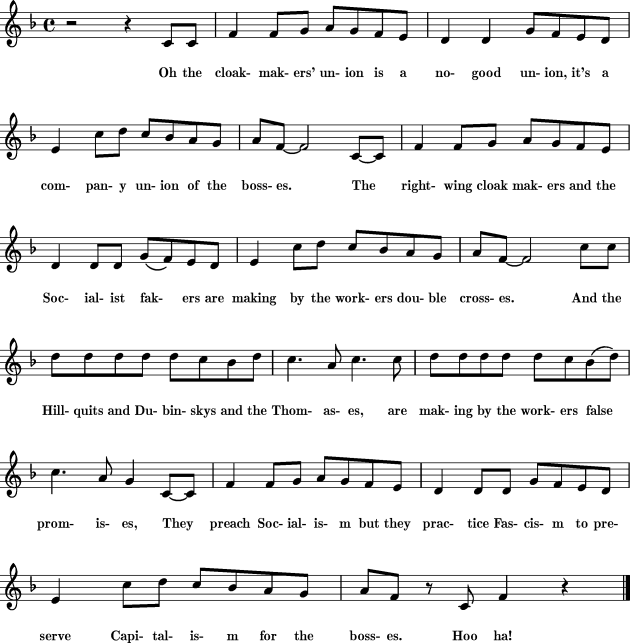 The Cloakmamer's Union
Oh, the cloakmakers' union is a no-good union,
It's a company union of the bosses.
They right-wing cloakmakers and the Socialist fakers
Are making by the workers double crosses.
And the Hillquits and Dubinskys and the Thomases
Are making by the workers false promises,
They preach Socialism, but they practice Fascism
To preserve Capitalism by the bosses.
Hoo Ha!
Recorded by Glazer, Songs for Sectarians.
A very popular item in the late thirties. Sing it with a
pronounced Yiddish accent.
RG
MIDI

To save these files to your local computer try 'right click, then save link as' on a PC; or 'hold down cmd and click, then save link as' on a Mac




MP3

(subscribers only)

To save these files to your local computer try 'right click, then save link as' on a PC; or 'hold down cmd and click, then save link as' on a Mac
About 'The Cloakmakers' Union'





Artist:

The Artist:

Traditional Music of unknown author.


Tags:
Close X
Thank you for trying the 8notes.com Audio & Transposition features
You have reached your limit for today.
Please subscribe for unlimited playback & transpositions
Individual Subscriptions:

Click here for more info on subscriptions