The Cranberry Bogs
Sheet music for Treble Clef Instrument
The Cranberry Bogs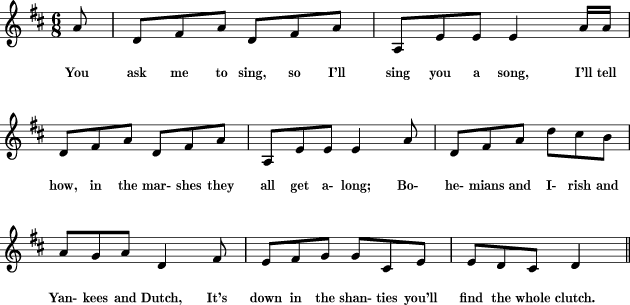 Cranberry Bogs (2)
You ask me to sing and I'll sing you a song,
I'll tell how, in the marshes they all get along.
Bohemians and Irish and Yankees and Dutch,
It's down in the shanties you'll find the whole clutch.
Did you ever go to the cranberry bogs?
There's some of the houses are hewed out of logs.
The walls are of boards,they are sawed out of pine
That grow in the country called cranberry mine.
It's now then to Mather their tickets to buy
And to all their people they'll bid them goodbye
For fun and for frolic they plan to resign
For three or four weeks in the cranberry kline (clime?)
The hay it is cut and the wheat is all stacked
Cranberries are ripe, so their clothes they will pack.
And away to the marshes to rake away they will go
And dance to the music of fiddle and bow.
All day in the marshes, our rakes they will pull.
And feel the most gayest when boxes are full.
And in the evening they'll dance till they're all tired out
And wish the cranberries would never play out.
From Folk Songs Out of Wisconsin, Peters
Collected from Frances Perry, WI
RW
MIDI

To save these files to your local computer try 'right click, then save link as' on a PC; or 'hold down cmd and click, then save link as' on a Mac




MP3

(subscribers only)

To save these files to your local computer try 'right click, then save link as' on a PC; or 'hold down cmd and click, then save link as' on a Mac
About 'The Cranberry Bogs'





Artist:

The Artist:

Traditional Music of unknown author.


Tags:
Close X
Thank you for trying the 8notes.com Audio & Transposition features
You have reached your limit for today.
Please subscribe for unlimited playback & transpositions
Individual Subscriptions:

Click here for more info on subscriptions