My Love is Like a Dewdrop
Sheet music for Treble Clef Instrument
My Love is Like a Dewdrop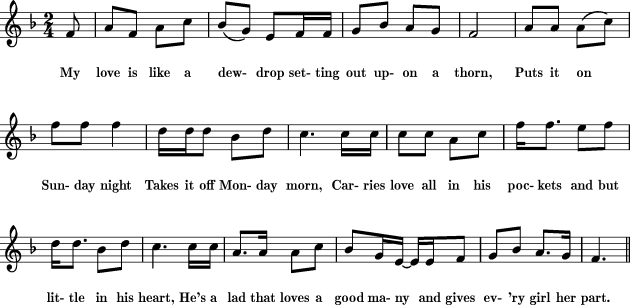 My Love is Like a Dewdrop
My love is like a dewdrop setting out upon a thorn,
Puts it on Sunday night, takes it off Monday morn,
Carries love all in his pockets and but little in his heart,
He's a lad that loves a good many, and gives every girl her part
The first time that I met my love, 'twas in a shady grove,
And as he stepped forward, he gave to me a rose;
He thought that I'd accept of it, but no, not 1:
Before I would accept of it, I'd lay me down and die
The next time that I met my love, he asked me for the ring;
He said that I had deprived him of many a better thing;
He said that I had served him as he'd served two or three,
So I care no more about him, he may go far away.
Many a cold winter's night we sat together and chat,
But little did I like him any better for that;
His tongue, it rang too nimble, and his watch, it ran too slow,
And many a time I gave him his hat and told him for to go.
He can go home and tell his mother, and set her mind at ease
For I hear she is an old woman, very hard to please;
Talking ill of me, as they say she has done:
Oh, she need not fret herself; I wouldn't have her son
He is the son of a miser, I plainly understand,
And I am the daughter of a poor, hard working man;
He may share his gold, but I'm sure he'll not with me:
Good riddance of bad rubbish, he may go, farewell he!
I hear he has a new sweetheart, he won her by a joke;
He really thinks within his heart he does me provoke;
If he thinks he provokes me, I'll plainly let him see
That I can have a new sweetheart just as well as he.
Come all you lovesick fair ones that cured cannot be,
I'll tell you of a remedy quite satisfactory:
Take two grains of reason, and three grains of common sense
A pound of resolution, and lots of impudence!
From Folk Songs of the Catskills, Cazden Haufrecht and Studer
Collected from Mary Avery
Note: See Farewell He, and Let Him Go
RG
Sorry, parts requests not available for this piece
Why?
Score Transpositions

No alternative transpositions yet
Sorry, transposition requests not available for this piece
Why?
PDF
More Versions
Arrangements of this piece also available for: