Dido, Fido
Sheet music for Treble Clef Instrument
Dido, Fido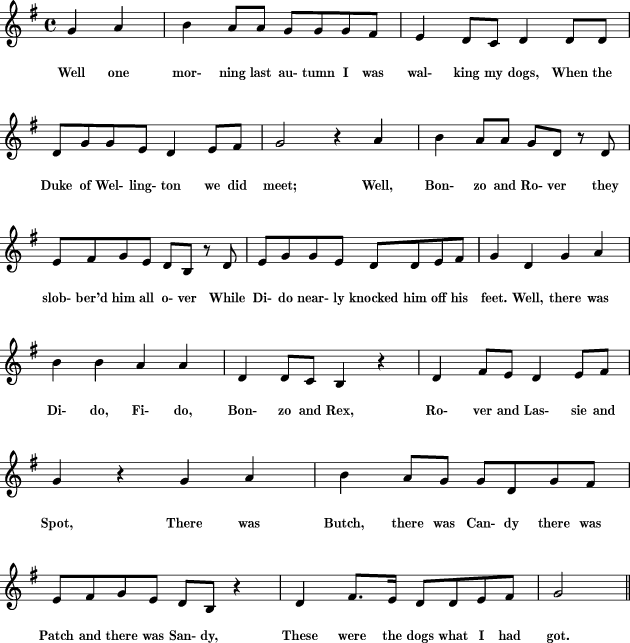 Dido, Fido
(Kipper Family)
1. Well one morning last autumn I was walking my dogs
When the Duke of Wellington we did meet.
Well Bonzo and Rover, they slobbered him all over,
While Dido nearly knocked him off his feet.
Well there was....
CHORUS: Dido, Fido, Bonzo and Rex
Rover and Lassie and Spot
There was Butch, there was Candy
There was Patch and there was Sandy
These were the dogs what I had got.
2. Well don't worry sir I said,
He won't hurt you that's just
his way of saying he like you alot.
But he took my little dog, and he kicked him in the bog
And said that's my way of showing I do not.
There was.....
3. Now the next dog being old, he was a trifle deaf
He couldn't hear a single word I said.
And so when I told him sit, he made an awful mess.
When I cleaned it up I shot the bugger dead.
That still left....
4. Now the next dog being daft, and not all the ticket
He made straight way for the river.
And there he did jump in, but the bugger couldn't swim
That's the last we saw of him forever.
There was.....
5. They chased a rabbit o'er the plain,
but that chased 'em back again
Which put my poor old dogs in quite a stew.
Now there's just 12 months today
Since I heard the squire say
"I should have them all put down, if I was you."
There was.....
Copyright Dambuster Records
JY
MIDI

To save these files to your local computer try 'right click, then save link as' on a PC; or 'hold down cmd and click, then save link as' on a Mac




MP3

(subscribers only)

To save these files to your local computer try 'right click, then save link as' on a PC; or 'hold down cmd and click, then save link as' on a Mac
About 'Dido, Fido'





Artist:

The Artist:

Traditional Music of unknown author.


Tags:
Close X
Thank you for trying the 8notes.com Audio & Transposition features
You have reached your limit for today.
Please subscribe for unlimited playback & transpositions
Individual Subscriptions:

Click here for more info on subscriptions