I'm Henery the Eighth, I Am
Sheet music for Treble Clef Instrument
I'm Henery the Eighth, I Am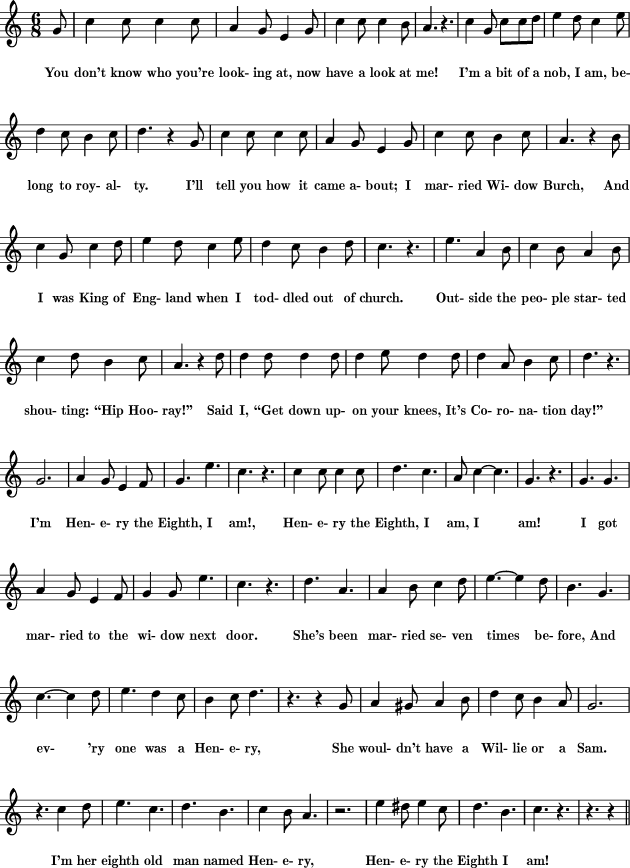 I'm Henery the Eighth, I Am
(Murray and Weston)
You don't know who you're looking at; now have a look at me!
I'm a bit of a nob, I am, belong to royalty.
I'll tell you how it came about; I married Widow Burch,
And I was King of England when I toddled out of church.
Outside the people started shouting, "Hip, hooray!"
Said I, "Get down upon your knees, it's Coronation Day!"
cho: I'm Henery the Eighth, I am!
Henery the Eighth, I am, I am!
I got married to the widow next door,
She's been married seven times before.
And every one was a Henery
She wouldn't have a Willie or a Sam.
I'm her eighth old man named Henery,
Henery the Eighth I am!
I left the Duke of Cumberland, a pub up in the town.
Soon with one or two moochers I was holding up the Crown.
I sat upon the bucket that the carmen think their own;
Surrounded by my subjects I was sitting on the throne.
Out came the potman, saying, "Go on, home to bed!"
Said I, "Now say another word, and off'll go your head!"
Now at the Waxwork Exhibition not so long ago
I was sitting among the kings, I made a lovely show.
To good old Queen Elizabeth I shouted, "Wotcher Liz!"
While people poked my ribs and said, "I wonder who this is!"
One said, "It's Charley Peace!" and then I got the spike.
I shouted, "Show yer ignorance!" as waxy as you like.
RG
MIDI

To save these files to your local computer try 'right click, then save link as' on a PC; or 'hold down cmd and click, then save link as' on a Mac




MP3

(subscribers only)

To save these files to your local computer try 'right click, then save link as' on a PC; or 'hold down cmd and click, then save link as' on a Mac
About 'I'm Henery the Eighth, I Am'





Artist:

The Artist:

Traditional Music of unknown author.


Composed:
1910
Info:
LYRICS:
You don't know who you're looking at; now have a look at me!
I'm a bit of a nob, I am, belong to royalty.
I'll tell you how it came about; I married Widow Burch,
And I was King of England when I toddled out of church.
Outside the people started shouting, "Hip hip hooray!"
Said I "Get down upon your knees it's Coronation Day!"

Chorus
I'm Henery the Eighth I am!
Henery the Eighth I am, I am!
I got married to the widow next door,
She's been married seven times before.
Everyone was a Henery;
She wouldn't have a Willie or a Sam.
I'm her eighth old man named Henery,
I'm Henery the Eighth I am!

I left the "Duke of Cumberland", a pub up in the town,
Soon with one or two moochers I was holding up the Crown.
I sat upon the bucket that the carmen think their own;
Surrounded by my subjects I was sitting on the throne.
Out came the potman, saying, "Go on, home to bed!"
Said I, "Now say another word and off'll go your head!"

Chorus

Now at the Wax-work Exhibition not so long ago
I was sitting among the kings, I made a lovely show.
To good old Queen Elizabeth, I shouted "Wotcher Liz!"
While people poked my ribs and said, "I wonder who this is!"
One said , "It's Charley Peace!" and then I got the spike.
I shouted "Show your ignorance!" as waxy as you like.

Chorus

The undertaker called and to the wife I heard him say:
"Have you got any orders, mum? We're very slack today.
I packed up number seven for you, for the Golden Gates.
Let's have a pound upon accounts of Henery the Eighth.
Oh, when he measured me with half a yard of string,
I dropped upon me marrowbones and sang "God Save the King."

Chorus
Number of Pages:
1
Difficulty:
Intermediate Level: Recommended for Intermediate Level players
Instrument:
(View more Intermediate Music)
Style:
Traditional (View more Traditional Music)
Tags:

Copyright:
Creative Commons Attribute 3.0
Close X
Thank you for trying the 8notes.com Audio & Transposition features
You have reached your limit for today.
Please subscribe for unlimited playback & transpositions
Individual Subscriptions:

Click here for more info on subscriptions