My Gal is a High Born Lady
Sheet music for Treble Clef Instrument
My Gal is a High Born Lady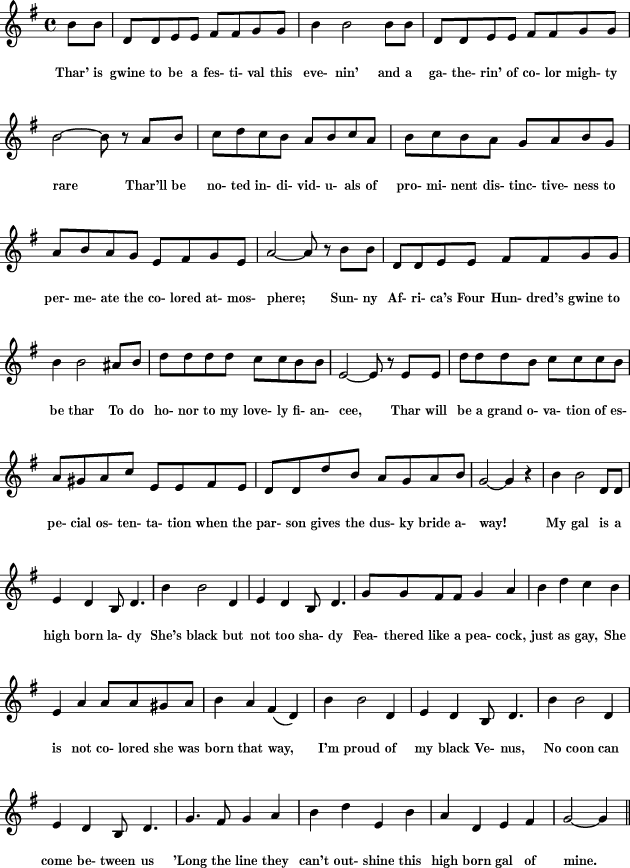 My Gal is a High Born Lady
(Barney Fagan)
Thar' is gwine to be a festival this evenin'
And a gatherin' of color mighty rare
Thar'll be noted individuals of prominent distinctiveness
To permeate the colored atmosphere;
Sunny Africa's Four Hundred's gwine to be thar
To do honor to my lovely fiancee,
Thar will be a grand ovation of especial ostentation
When the parson gives the dusky bride a way!
cho: My gal is a high born lady
She's black but not too shady
Feathered like a peacock, just as gay,
She is not colored, she was born that way,
I'm proud of my black Venus,
No coon can come between us
'Long the line they can't out shine this high born gal of mine.
When the preacher man propounds the vital question,
"Does ye' take the gal' for better or for wuss?"
I will feel as if my soul had left my body, gone to glory,
And I know my heart will make an awful fuss,
I anticipates a very funny feelin'
Nigger's eyeball, like a diamond sure to shine,
But I'll bask in honeyed clover, when the ceremony's over,
And I press the ruby lips of baby mine)
From Flashes of Merriment, Levy
RG
oct97
Sorry, parts requests not available for this piece
Why?
Score Transpositions

No alternative transpositions yet
Sorry, transposition requests not available for this piece
Why?
PDF
More Versions
Arrangements of this piece also available for: