Mairi's Wedding
Sheet music for Treble Clef Instrument
Mairi's Wedding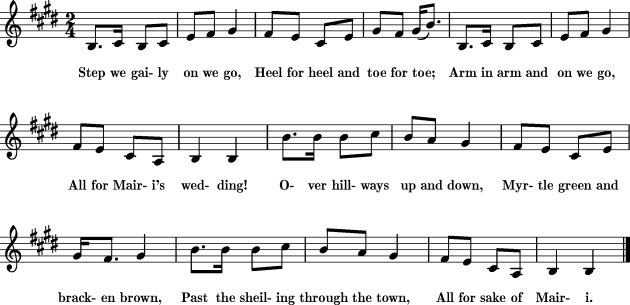 Mairi's Wedding
cho: Step it gaily, off we go
Heel for heel and toe for toe,
Arm in arm and off we go
All for Mairi's wedding.
Over hillways up and down
Myrtle green and bracken brown,
Past the sheiling through the town
All for sake of Mairi.
Plenty herring, plenty meal
Plenty peat to fill her creel,
Plenty bonny bairns as weel
That's the toast for Mairi.
Cheeks as bright as rowans are
Brighter far than any star,
Fairest o' them all by far
Is my darlin' Mairi.
RG
MIDI

To save these files to your local computer try 'right click, then save link as' on a PC; or 'hold down cmd and click, then save link as' on a Mac




MP3

(subscribers only)

To save these files to your local computer try 'right click, then save link as' on a PC; or 'hold down cmd and click, then save link as' on a Mac
About 'Mairi's Wedding'





Artist:

The Artist:

Traditional Music of unknown author.


Info:
LYRICS:
(Chorus) Step we gaily, on we go,
Heel for heel and toe for toe,
Arm and arm and row on row,
All for Mairi's wedding.

Over hill-ways up and down,
Myrtle green and bracken brown,
Past the shielings, through the town;
All for sake o' Mairi.

Red her cheeks as rowans are,
Bright her eye as any star,
Fairest o' them a' by far,
Is our darling Mairi.

Plenty herring, plenty meal,
Plenty peat to fill her creel,
Plenty bonnie bairns as weel;
That's the toast for Mairi.
Number of Pages:
1
Difficulty:
Intermediate Level: Recommended for Intermediate Level players
Instrument:
(View more Intermediate Music)
Style:
Traditional (View more Traditional Music)
Tags:
Copyright:
Creative Commons Attribute 3.0
Close X
Thank you for trying the 8notes.com Audio & Transposition features
You have reached your limit for today.
Please subscribe for unlimited playback & transpositions
Individual Subscriptions:

Click here for more info on subscriptions