Mockin' Bird Hill
Sheet music for Treble Clef Instrument
Mockin' Bird Hill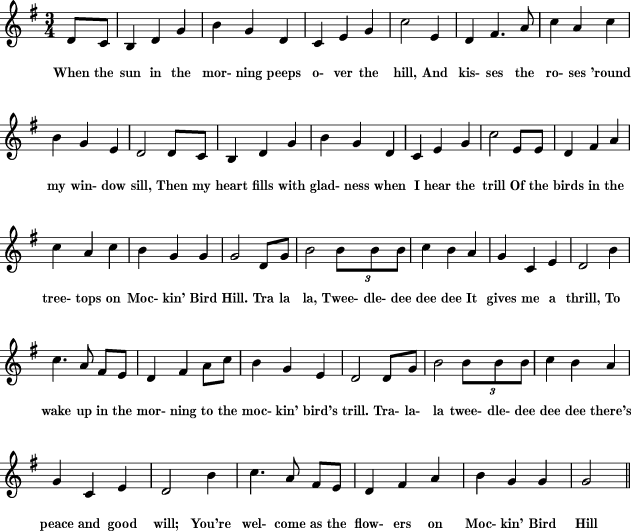 Mockin' Bird Hill
(Vaughn Horton)
When the sun in the morning peeps over the hill,
And kisses the roses 'round my window sill,
Then my heart fills with gladness when I hear the trill
Of the birds in the treetops on Mockin' Bird Hill.
cho: Tra la la, tweedle dee dee dee
It gives me a thrill,
To wake up in the morning
To the mockin' bird's trill.
Tra la la tweedle dee dee dee
There's peace and good will;
You're welcome as the flowers
On Mockin' Bird Hill
Got a three-cornered plow and an acre to till
And a mule that I bought for a ten-dollar bill
There's a tumble-down shack and a rusty ol' mill
But it's my Home Sweet Home up on Mockin' Bird Hill.
When it's late in the evening I climb up the hill
And survey all my kingdom while everything's still.
Only me and the sky and an ol' whippoorwill
Singin' songs in the twilight on Mockin' Bird Hill.
Copyright Cromwell Music, Inc.
RG
Close X
Thank you for trying the 8notes.com Audio & Transposition features
You have reached your limit for today.
Join 8notes PREMIUM for unlimited playback & transpositions
Individual Subscriptions:

Click here for more info on 8notes PREMIUM