Rocky Top
Sheet music for Treble Clef Instrument
Rocky Top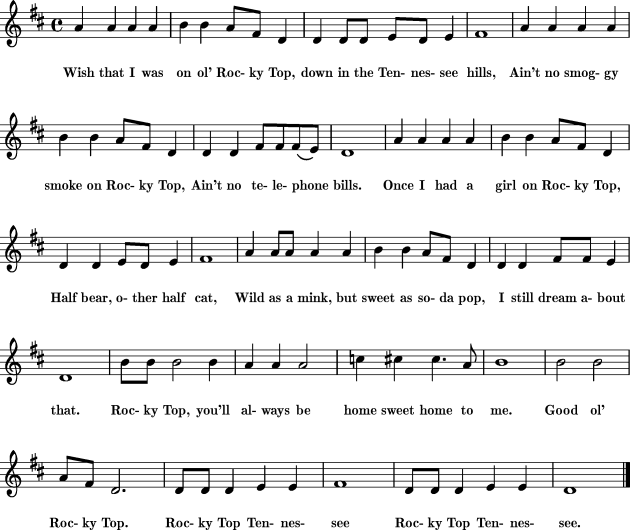 Rocky Top
(Boudleaux Bryant and Felice Bryant)
Wish that I was on ol' Rocky Top
Down in the Tennessee hills;
Ain't no smoggy smoke on Rocky Top
Ain't no telephone bills.
Once I had a girl on Rocky Top
Half bear, other half cat
Wild as a mink and sweet as soda pop
I still dream about that
cho: Rocky Top, you'll always be
Home sweet home to me;
Good ol' Rocky Top
Rocky Top, Tennessee
Rocky Top, Tennessee.
Once two strangers climbed ol' Rocky Top
Lookin' for a moonshine still,
Strangers ain't come down from Rocky Top
Reckon they never will.
Corn won't grow at all on Rocky Top
Dirt's too rocky by far;
That why all the folks on Rocky Top
Get their corn from a jar.
I've had years of cramped-up city life
Trapped like a duck in a pen.
All I know is it's a pity life
Can't be simple again.
Copyright 1967 House of Bryant Publications
RG
MIDI

To save these files to your local computer try 'right click, then save link as' on a PC; or 'hold down cmd and click, then save link as' on a Mac




MP3

(subscribers only)

To save these files to your local computer try 'right click, then save link as' on a PC; or 'hold down cmd and click, then save link as' on a Mac
About 'Rocky Top'





Artist:

The Artist:

Traditional Music of unknown author.


Tags:
Close X
Thank you for trying the 8notes.com Audio & Transposition features
You have reached your limit for today.
Please subscribe for unlimited playback & transpositions
Individual Subscriptions:

Click here for more info on subscriptions