Since First I Saw Your Face
Sheet music for Treble Clef Instrument
Since First I Saw Your Face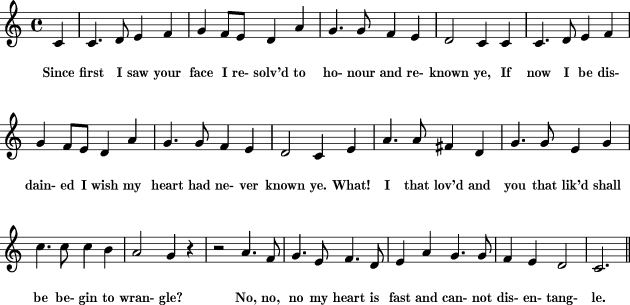 Since First I Saw Your Face
(Thomas Ford)
Since first I saw your face
I resolv'd to honour and reknown ye,
If now I be disdained
I wish my heart had never known ye.
What! I that lov'd and you that lik'd
Shall be begin to wrangle?
No, no, no, my heart is fast
And cannot disentangle.
If I admire or praise you too much
That fault you may forgive me.
Or if my hands had stray'd a touch
Then justly might you leave me.
I ask'd you leave, you bade me love
Is't now a time to chide me?
No, no, no, I'll love you still
What fortune e'er betide me.
The sun, whose beams most glorious are
Rejecteth no beholder;
And your sweet beauty, past compare,
Made my poor eyes the bolder.
Where beauty moves and wit delights
And signs of kindness find me
There, oh there, where'er I go
I'll leave my heart behind me.
From Songs From Shakespeare's Plays, Kines
Published in Music of Sundrie Kindes, Ford, 1607
RG
MIDI

To save these files to your local computer try 'right click, then save link as' on a PC; or 'hold down cmd and click, then save link as' on a Mac




MP3

(subscribers only)

To save these files to your local computer try 'right click, then save link as' on a PC; or 'hold down cmd and click, then save link as' on a Mac
About 'Since First I Saw Your Face'





Artist:

The Artist:

Traditional Music of unknown author.


Tags:
Close X
Thank you for trying the 8notes.com Audio & Transposition features
You have reached your limit for today.
Please subscribe for unlimited playback & transpositions
Individual Subscriptions:

Click here for more info on subscriptions