Two Sisters
Sheet music for Treble Clef Instrument
Two Sisters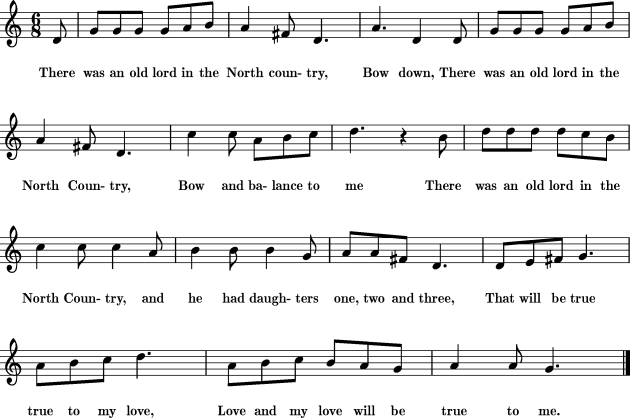 The Two Sisters (7)
There lived an old lord in the North Countree
Bow down
There lived an old lord in the North Countree
Bow and balance to me,
There lived an old lord in the North Countree
And he had daughters, one two and three
That will be true, true to my love
Love and my love will be true to me.
There went a young man a-courting there
He chose the youngest daughter fair
He gave to her a beaver hat
The older she thought much of that.
He gave the youngest a gay gold ring
The older, not a single thing.
O sister, O sister come walk with me
To see the ships upon the sea.
But when they reached the water's brim
The oldest pushed the yougest in.
O sister, O sister, O give me your hand
And you may have my house and land.
I will not give you my hand nor my glove
But I will have your own true-love.
Down she sank and away she swam
And down to the miller's mill-pond she swam.
O miller, O miller, there swims a swan
A-swimming about in your mill-pond.
The miller ran out with his fish-hook
And fished that fair maid out of the brook.
He's robbed her of her gay gold rings
And into the pond he's pushed her again.
The miller was hung at his mill gate
For drowning of his sister, Kate.
Child #10
Note: This is how I remember it; it may well be a pastiche of several
versions. No magic in this one. RG
RG
Sorry, parts requests not available for this piece
Why?
Score Transpositions

No alternative transpositions yet
Sorry, transposition requests not available for this piece
Why?
PDF
More Versions
Arrangements of this piece also available for: