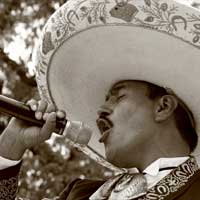 Mariachi Music for Trombone
Mariachi Music for Trombone
A collection of traditional Mariachi tunes arranged for Trombone with piano accompaniment. Easy to Advanced Level
1. La Cucaracha (Mexico)

"La Cucaracha" (Spanish: "The Cockroach") is a traditional Spanish folk corrido that became popular in Mexico during the Mexican Revolution. It tells the story of a cockroach that is unable to walk. It is one of the most familiar melodies of Spanish origin, popularised in versions by numerous singers and through appearances in movies such as "A Bug's Life" and "Cars 2."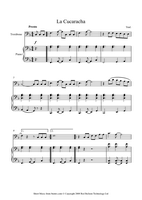 La Cucaracha (Mexico)
2. La Bamba

"La Bamba" is a Mexican folk song, originally from the state of Veracruz, best known from a 1958 adaptation by Ritchie Valens, a top 40 hit in the U.S. charts and one of early rock and roll's best-known songs.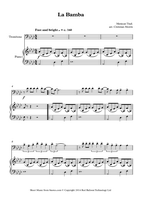 La Bamba
3. Mexican Hat Dance (Mexico)

The Mexican hat dance (original title Jarabe Tapatío) is the national dance of Mexico. It originated as a courtship dance in Guadalajara, Jalisco, during the 19th century, although its elements can be traced back to the Spanish zambra and jabber gitano. The standard music of the jarabe tapatío was composed by Jesús González Rubio in the 19th century. However, its more common instrumental arrangement dates from the 1920s.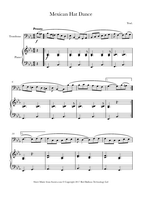 Mexican Hat Dance (Mexico)
4. Cielito Lindo

"Cielito lindo" is a popular Mexican song popularized in 1882 by Quirino Mendoza y Cortés. It is roughly translated as "Lovely Sweet One". Although the word "cielo" means sky or heaven, it is also a term of endearment comparable to sweetheart or honey. Commonly played by mariachi bands, it has been recorded by many artists in the original Spanish as well as in other languages. In recent decades it has come to be widely known as a theme song for Mexico, particularly at international events, like the FIFA World Cup.
LYRICS:
De la Sierra Morena,
cielito lindo, vienen bajando,
Un par de ojitos negros,
cielito lindo, de contrabando.
Refrain:
Ay, ay, ay, ay,
Canta y no llores,
Porque cantando se alegran,
cielito lindo, los corazones.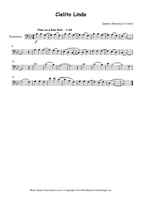 Cielito Lindo
5. Guantanamera

The author of this traditional Cuban song is unclear, although is sometimes attributed to to José Fernández Dia. The best known lyrics are an adaption of words by Cuban poet and independence hero José Martí. In 1966, a version by American vocal group The Sandpipers, based on an arrangement by Pete Seeger, became an international hit. Though Cuban in origin the song is a popular choice for Mexican Mariachi bands.
LYRICS:
Guantanamera
Guajira Guantanamera
Guantanamrera
Guajira Guantanamera
Yo soy un hombre sincero
De donde crecen las palmas
Yo soy un hombre sincero
De donde crece la palma
Y antes de morir yo quiero
Echar mis versos del alma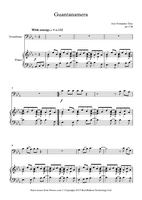 Guantanamera
6. Sebastian Iradier.. - La Paloma Tango

"La Paloma" is a popular song named after Paloma Mayer, having been produced and reinterpreted in diverse cultures, settings, arrangements, and recordings over the last 140 years. The song was composed and written by the Spanish composer of the Basque region Sebastian Iradier (later Yradier) after he visited Cuba in 1861. Iradier may have composed "La Paloma" around 1863, just two years before he died in obscurity, never to learn how popular his song would become.
LYRICS:
Cuando salí de la Habana
¡Válgame Dios!
Nadie me ha visto salir
Si no fui yo.
Y una linda Guachinanga
Allá voy yo.
Que se vino tras de mí,
que sí, señor.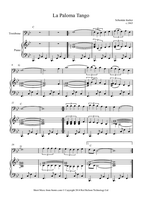 La Paloma Tango
7. Alfonso Esparza O.. - Las Mananitas

Alfonso Esparza Oteo's 'Las Mañanitas' is to Mexico what 'Happy Birthday' is in many other parts of the world. It is usually sung first thing in the morning on the day of a person's birthday. Like 'Happy Birthday' it is possible to insert the name of the persons whose birthday it is, here after the words 'Depierta, mi...' Popular amongst mariachi bands it has also been covered by many solo artists. The most famous version is by Pedro Infante in the movie 'Nosotros los pobres.'
LYRICS:
Estas son las mañanitas
que cantaba el rey David
hoy por ser día de tu santo, te las cantamos a ti.
Despierta, mi bien, despierta,
mira que ya amaneció,
ya los pajaritos cantan, la luna ya se metió.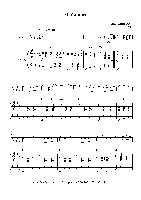 Las Mananitas
8. Serradell Narciso.. - La Golondrina

La golondrina (Spanish: The Swallow) is a song written in 1862 by Mexican physician Narciso Serradell Sevilla (1843-1910), who at the time was exiled to France due to the French intervention in Mexico. The Spanish lyrics use the image of a migrating swallow to evoke sentiments of longing for the homeland. It became the signature song of exiled Mexicans.
LYRICS:
A donde irá
veloz y fatigada
la golondrina
que de aquí se va
por si en el viento
se hallara extraviada
buscando abrigo
y no lo encontrara.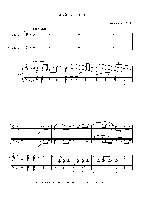 La Golondrina
9. La Adelita

'La Adelita' is one of the most well-known Mexican corridos, a type of song that renders a well-known narrative into a ballad. The song dates from the Mexican Revolution of 1910–20 and is based on the story of a young woman named Adelita who fell in love with a soldier and who fought on the side of Madero, the popular instigator of the revolution.
LYRICS:
En lo alto de una bruta serranía

Acampado se encontraba un regimiento

Y una moza que valiente lo seguía

Locamente enamorada del sargento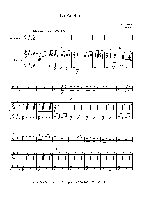 La Adelita
10. De Colores (Mexican Traditional)

Though a popular song amongst Mariachi bands, 'De Colores' ('Of Colours') probably originated in Spain, having been brought to the Americas during the colonial era. The song is an expression of joy at the colours of the natural world. It has become a rally song in U.S. United Farm Workers Union marches and has also been used by the Catholic church.
LYRICS:
De colores, de colores se visten los campos en la primavera
De colores, de colores son los pajaritos que vienen de afuera
De colores, de colores es el arco iris que vemos lucir
Y por eso los grandes amores de muchos colores me gustan a mí
Y por eso los grandes amores de muchos colores me gustan a mí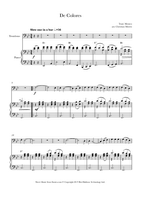 De Colores (Mexican Traditional)