This aria is the Duke of Mantua's 'canzone' from the beginning of act 3 of Giuseppe Verdi's opera Rigoletto. The canzone is famous as a showcase for tenors. In Europe, 'La donna e mobile' is one of the most popular melodies for football chants.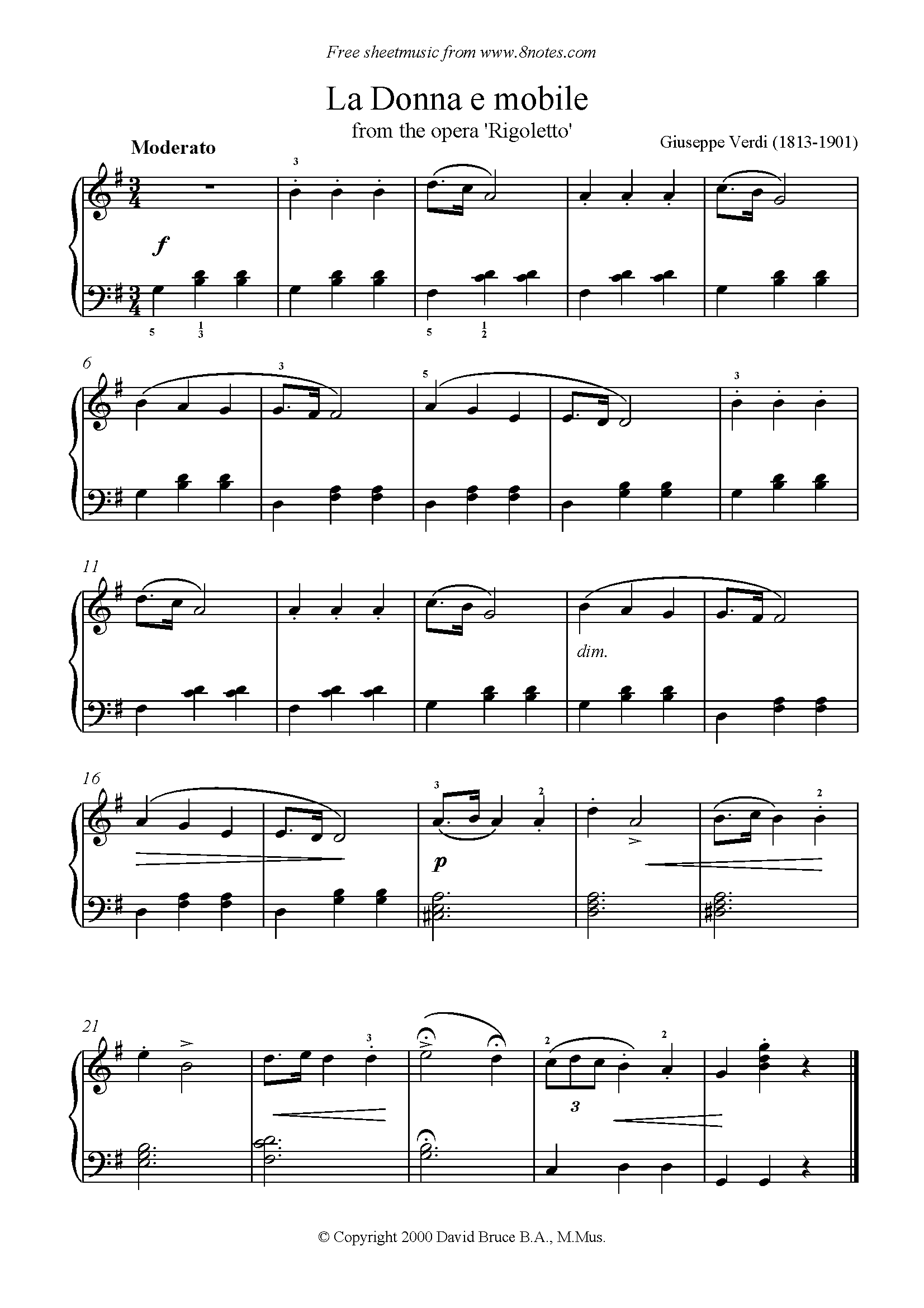 'La Donna e mobile' from Rigoletto
One of the most famous arias from the opera Carmen by French composer Georges Bizet. It tells the story of the downfall of Don José, a naive soldier who is seduced by the wiles of the fiery Gypsy, Carmen.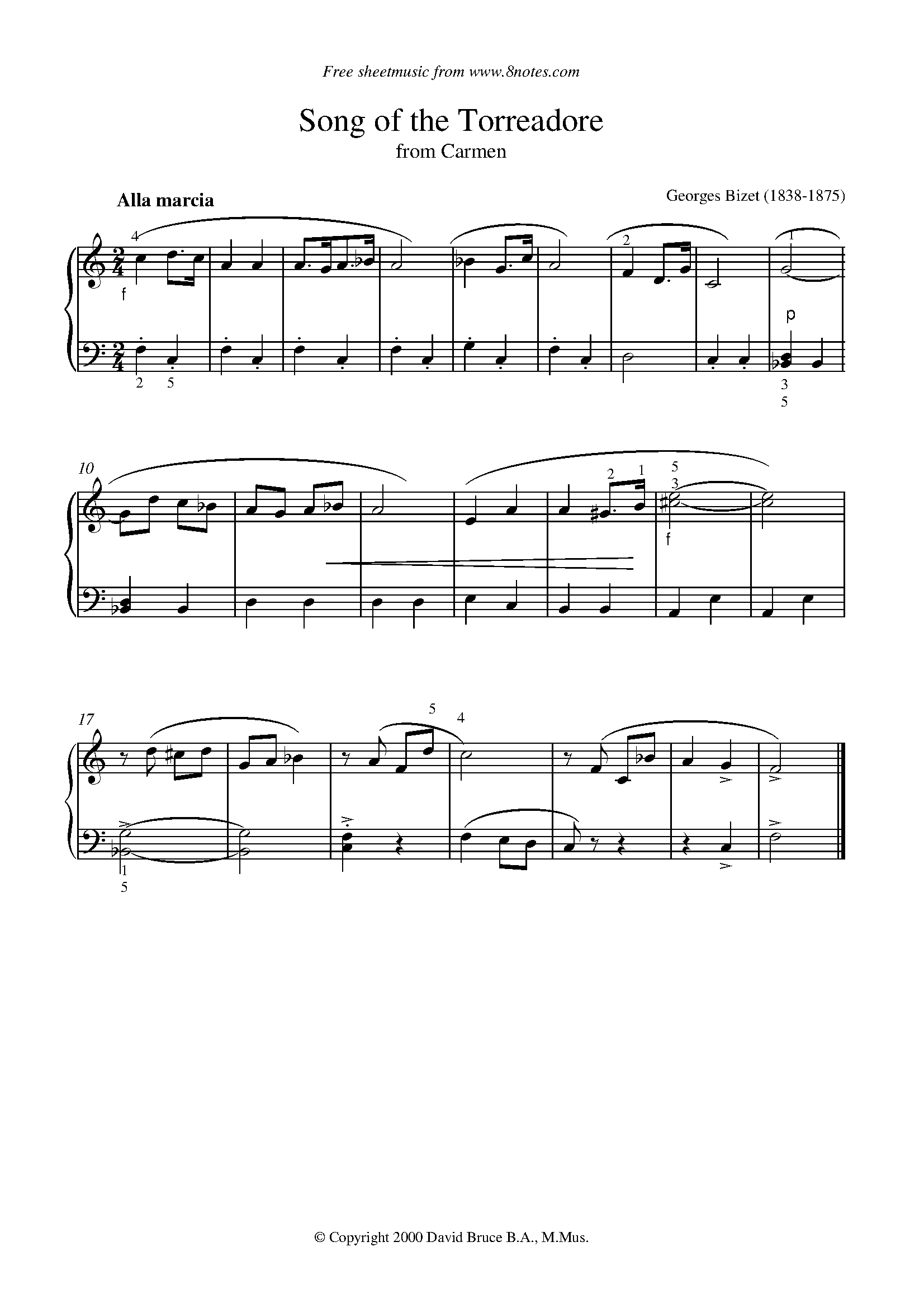 Song of the Torreadore from Carmen
Bizet's finished "The Pearl Fishers" at the age of just 24. It was not a great success, despite containing some of the most memorable of the composer's melodies, including this beautiful barcarole, in which Nadir (tenor) recalls his pursuit of a beautiful veiled woman in Kandy.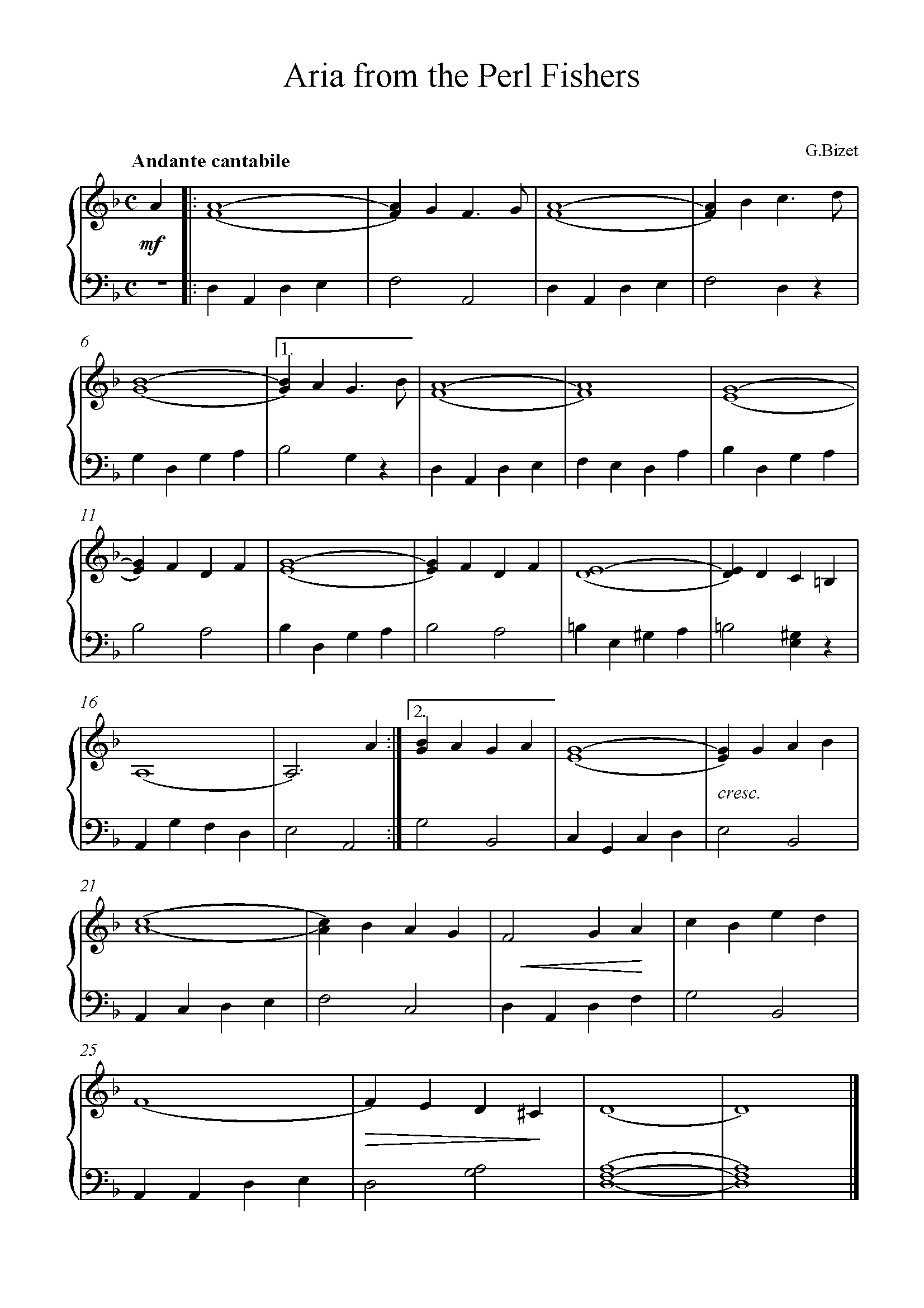 Aria from The Pearl Fishers
Habanera is the popular name for the aria "L'amour est un oiseau rebelle" (Love is a rebellious bird) from Georges Bizet's 1875 opera Carmen. It is the entrance aria of the title character, a mezzo-soprano role, in scene 5 of the first act. One of the most familiar arias in all opera it has appeared widely in popular culture, having been sung by the Marx Brothers, by Beyonce in a Pepsi advert and even having been subjected to an hilarious parody by the Muppets.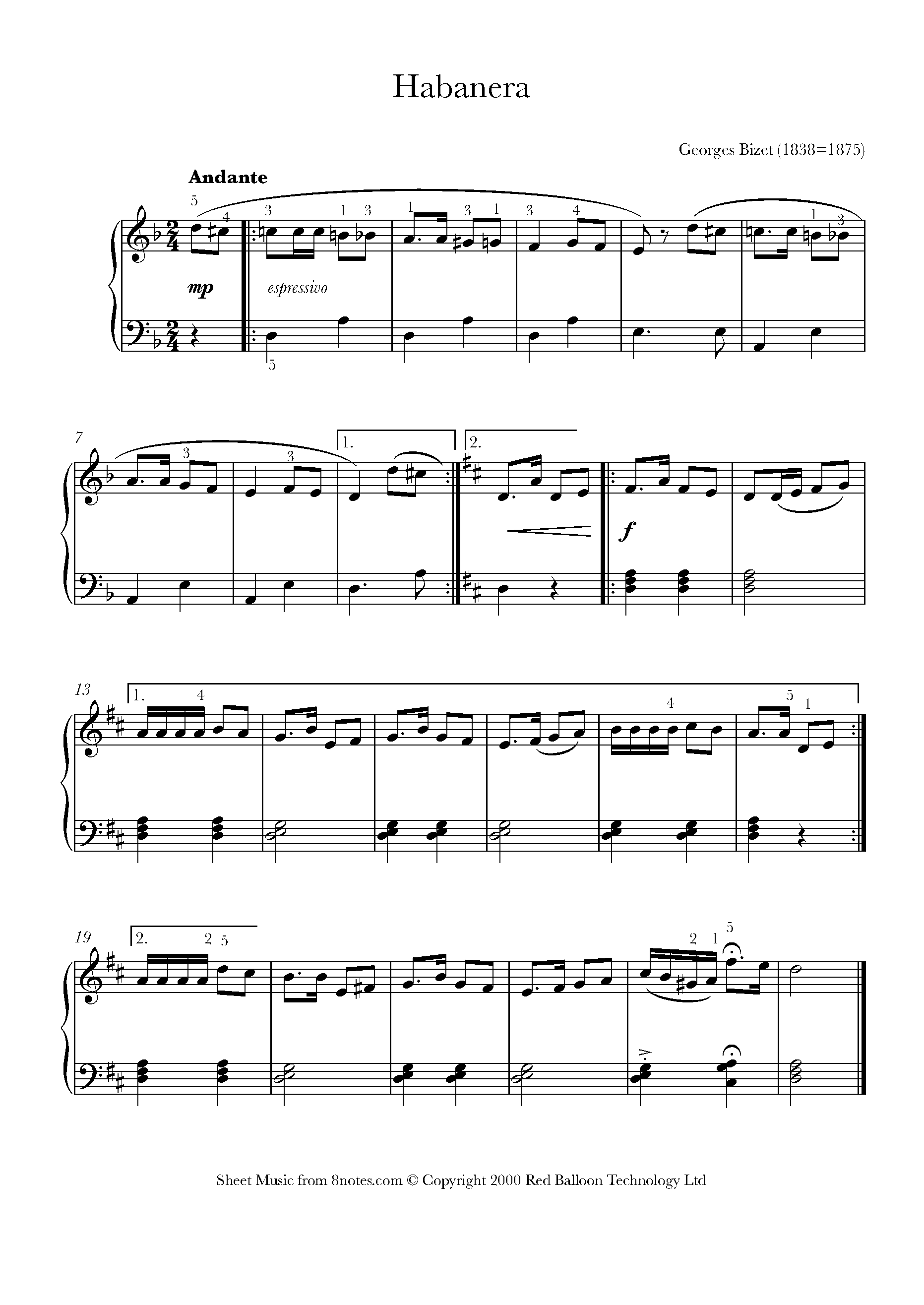 Habenera from Carmen
Gianni Schicchi, written in 1917-18, forms the final part of Puccini's Il trittico (The Triptych). In the aria "O mil babbino caro" (Oh, my dear papa) Lauretta (soprano) begs her father for help. Gianni Schicchi was a huge hit, with "O mi babbino caro" becoming one of Puccini's best-loved arias.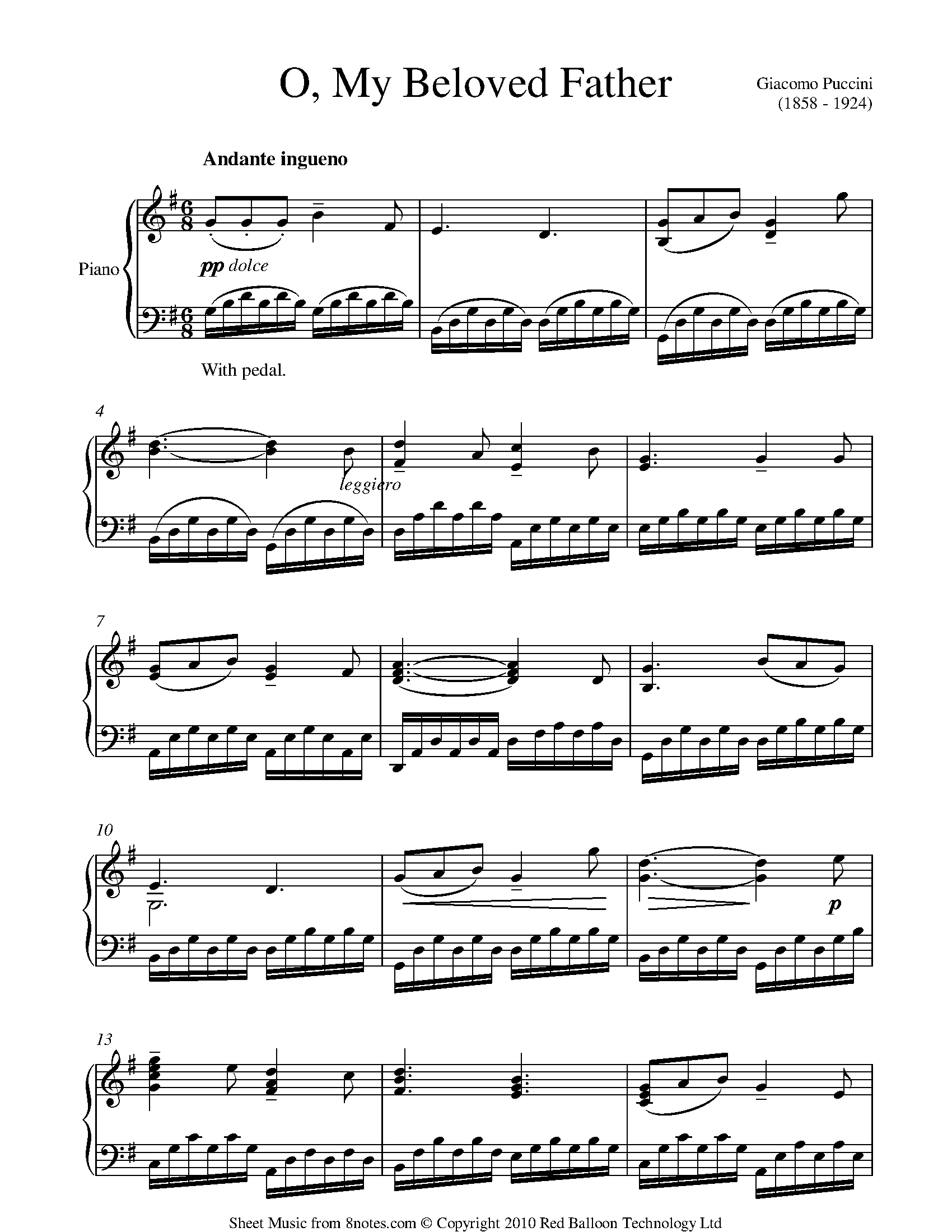 O mio babbino caro from Gianni Schicchi
"Là  ci darem la mano" (Italian for "There we will give each other our hands") is a duet for the characters Don Giovanni (baritone) and Zerlina (soprano) in Mozart's 1787 opera Don Giovanni. In it the roguish Don Giovanni attempts to seduce Zerlina, who is already betrothed to another man. The seductive tune has been used by a number of composers, including Berlioz and Beethoven, as a basis for sets of theme and variations.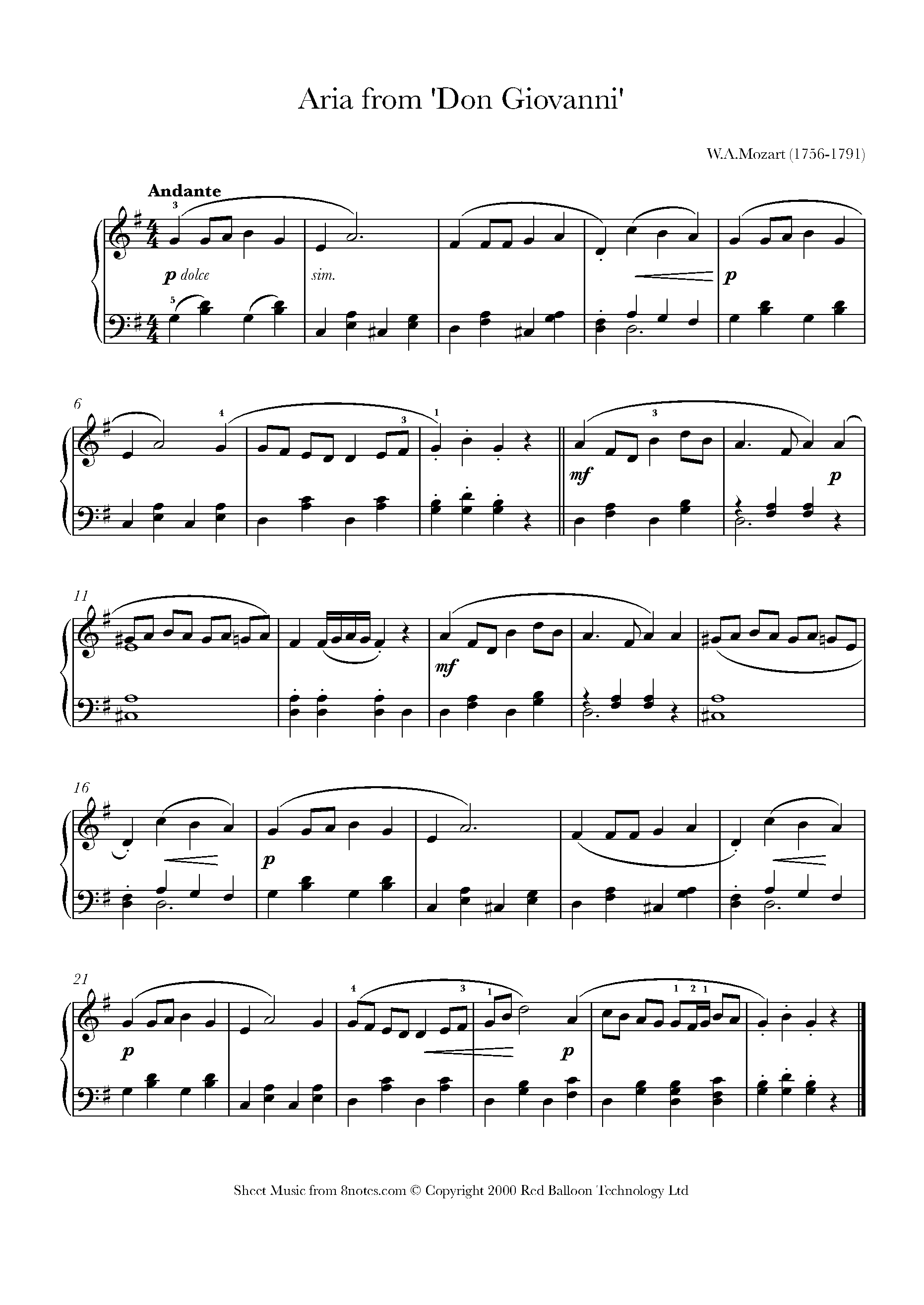 Aria from Don Giovanni
Mozart's The Marriage of Figaro was voted by 172 opera singers in 2017 as the greatest opera ever written. In the ravishing duet "Sull aria," the Countess (soprano) dictates a letter to Susanna (soprano), asking the Count to meet her. In the film "The Shawshank Redemption," Andy Dufresne (Tim Robbins) plays the song over the prison public address system, leading Redding (Morgan Freeman) to say "I have no idea to this day what those two Italian ladies were singing about. ... I'd like to think they were singing about something so beautiful it can't be expressed in words, and it makes your heart ache because of it."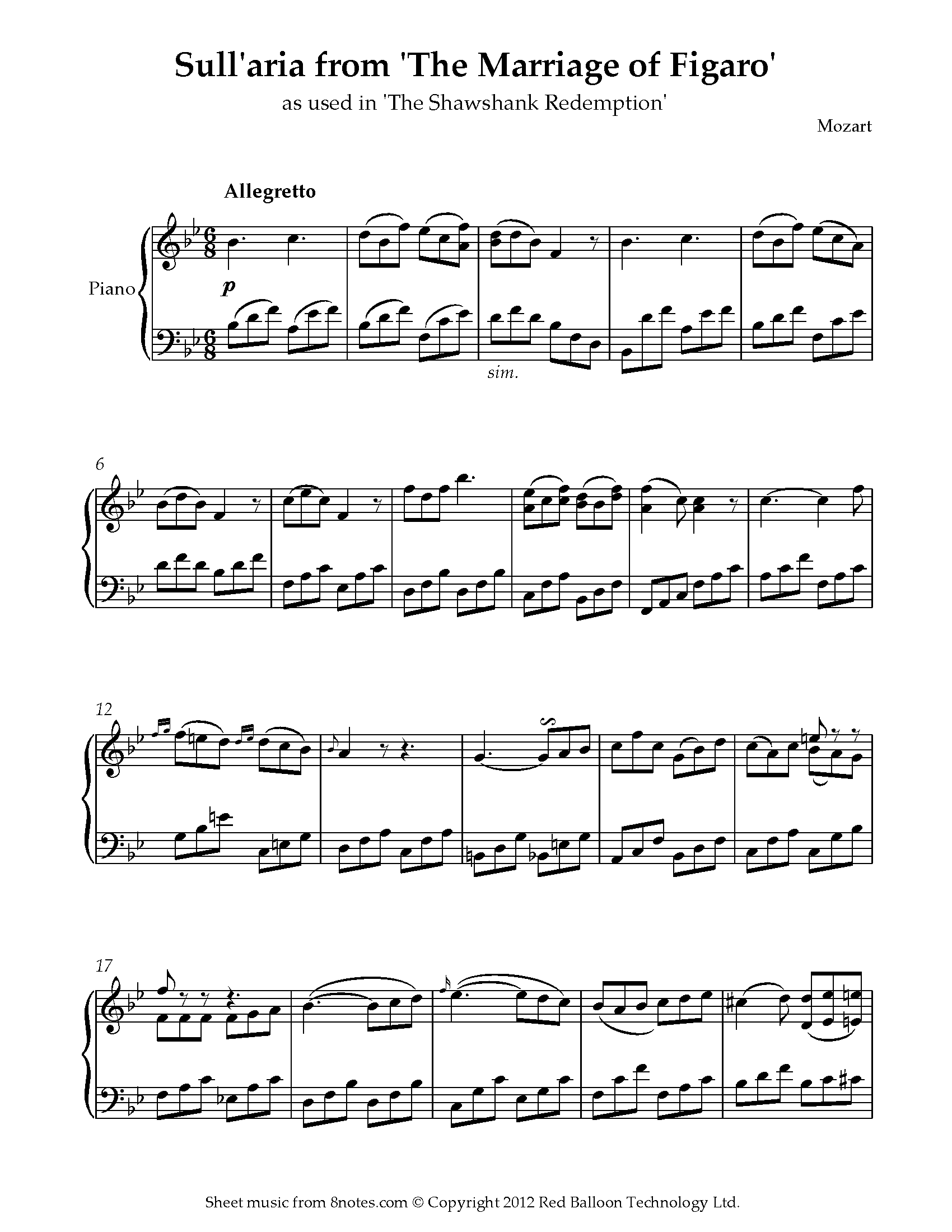 Sull aria from The Marriage of Figaro (as used in 'The Shawshank Redemption)
The Magic Flute (Die Zauberflote, K. 620) is an opera in two acts by Wolfgang Amadeus Mozart to a German libretto by Emanuel Schikaneder. The work is in the form of a Singspiel, a popular form that included both singing and spoken dialogue. It premiered in 1791 at Schikaneder's theater, the Freihaus-Theater auf der Wieden in Vienna. The solemn "March of the Priests" accompanies the entrance of a council of priests at the beginning of Act 2.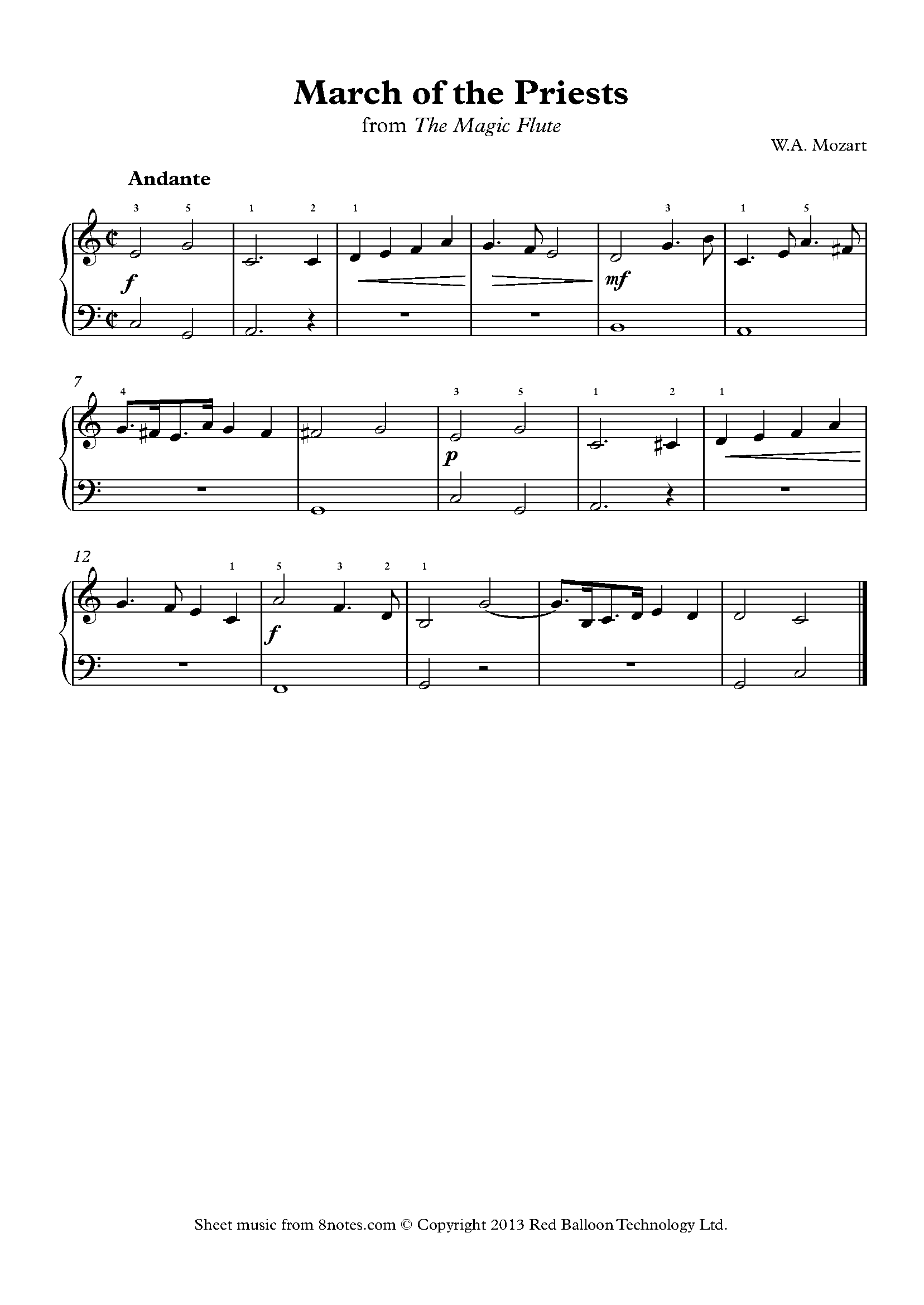 March of the Priests from Magic Flute
(subscription)
"Libiamo ne' lieti calici" ("Let's drink from the joyful cups") is one of the most famous examples of a "brindisi" or "drinking song," in which a group celebrates the joys of imbibing. It takes the form of a joyful duet in waltz time. It takes place in act one, at a late night party in which Alfredo (tenor) tries to impress Violetta (soprano), with whom he has fallen in love.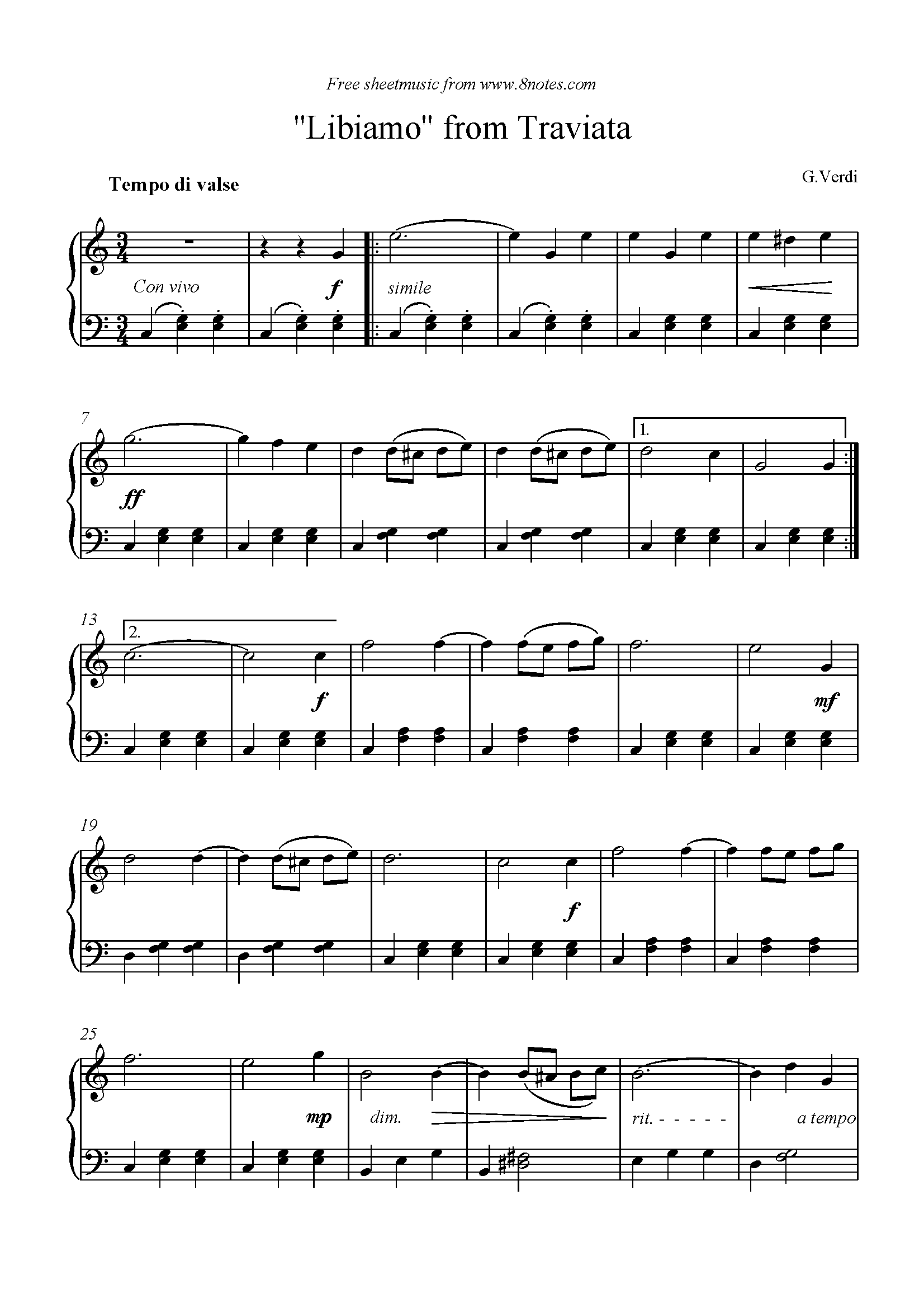 Libiamo from La Traviata
This piece comes from Xerxes - an opera seria in three acts. The opening aria, "Ombra mai fu", sung by Xerxes to a tree, is set to one of Handel's best-known melodies, and is often played in an orchestral arrangement, known as Handel's "Largo". It is often performed at solemn occasions such as funerals and weddings.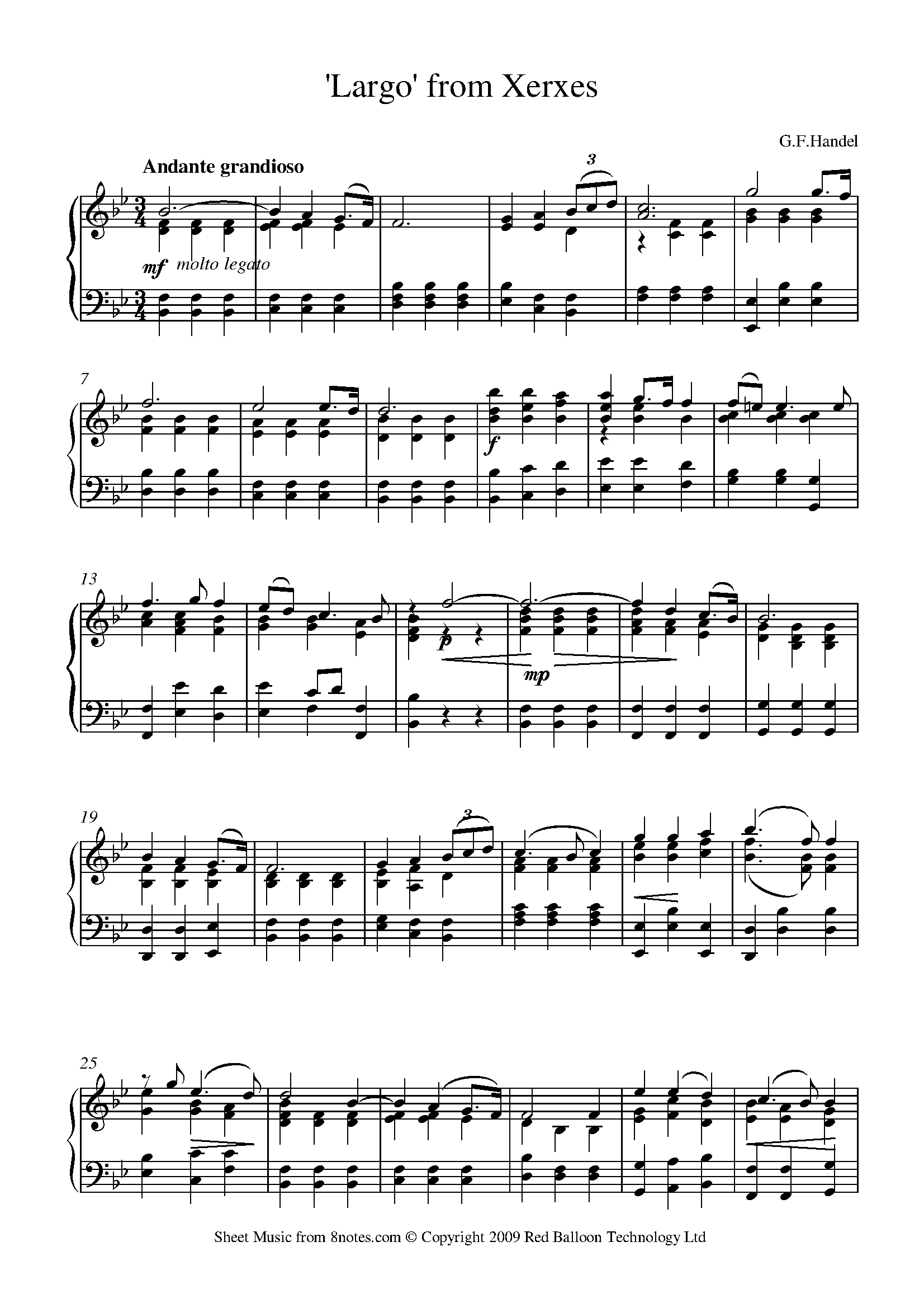 Largo from Xerxes
The Chorus of the Slaves is from Verdi's opera Nabucco from 1841. The opera follows the plight of the Jews as they are assaulted, conquered, and subsequently exiled from their homeland by the Babylonian King Nabucco (in English, Nebuchadnezzar II). The historical events are used as background for a romantic and political plot. This number, "Va, pensiero, sull'ali dorate" "Fly, thought, on golden wings," is the most famous in the opera, and one of Verdi's most recognised tunes.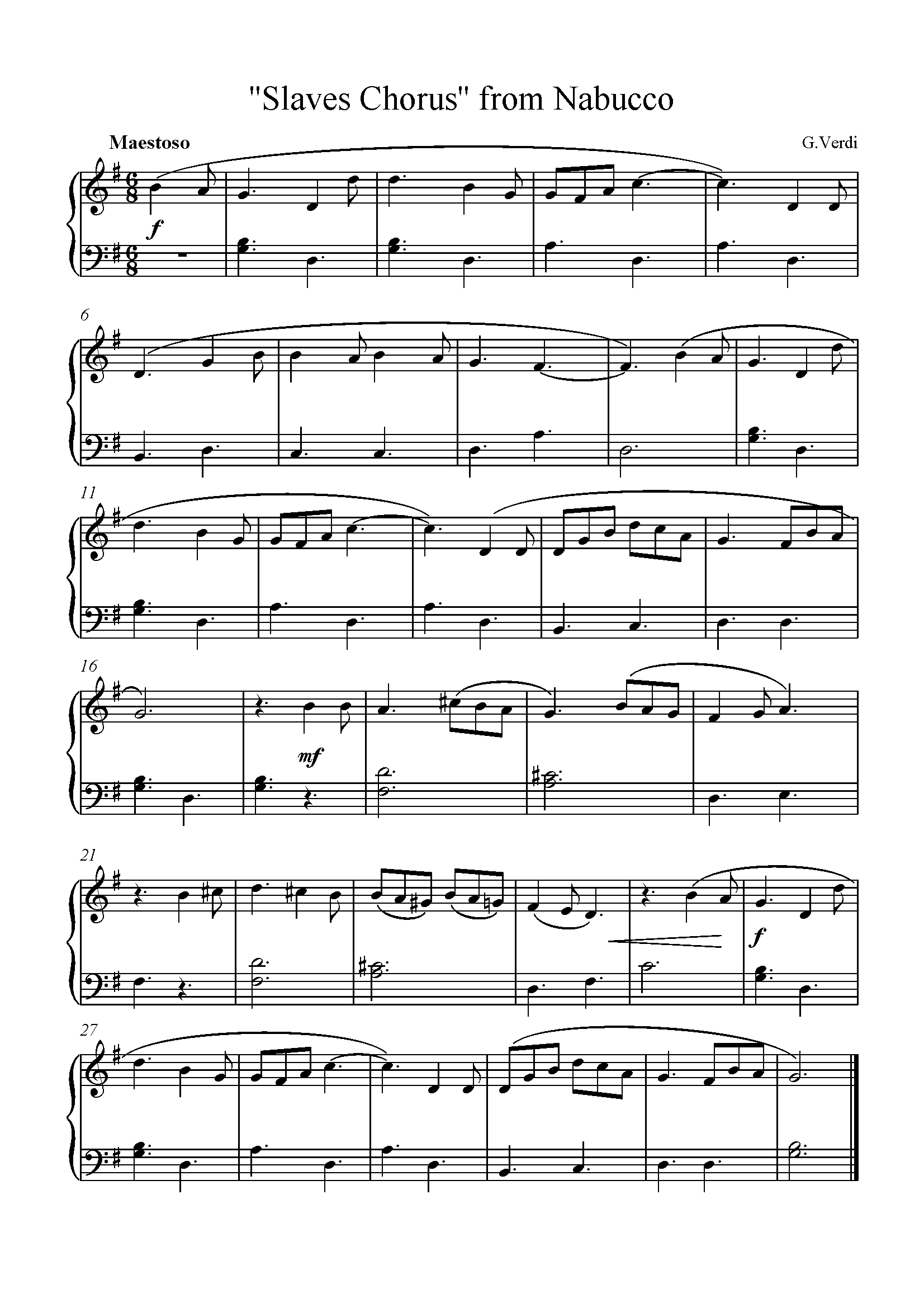 Slaves Chorus from Nabucco
The exquisite "Flower Duet" (French: "Duo des fleurs/Sous le dôme épais") is a famous duet for sopranos from Léo Delibes opera Lakmé, first performed in Paris in 1883. The duet takes place in act 1 of the opera, between characters Lakmé, the daughter of a Brahmin priest, and her servant Mallika, as they go to gather flowers by a river.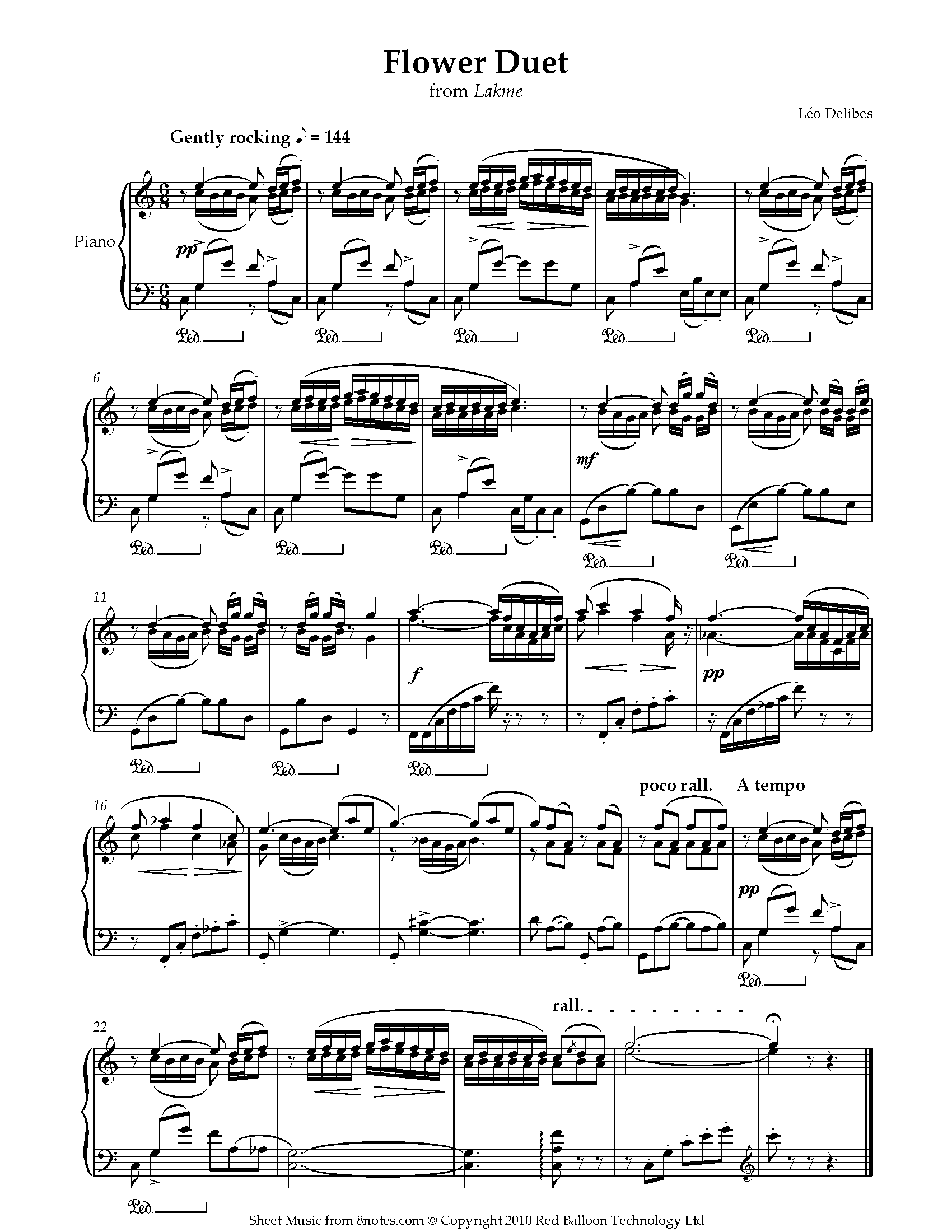 Flower Duet from Lakme
This minuet appears at the end of act one of Mozart's 1797 opera Don Giovanni. It is played by a chamber group on stage at a party scene in which Don Giovanni assaults Zerlina. The melody, as transcribed by Moritz Moszkowski, is a popular piece amongst amateur keyboard players. It has also been used as basis for pieces by other composers, including Liszt and Sigismond Thalberg.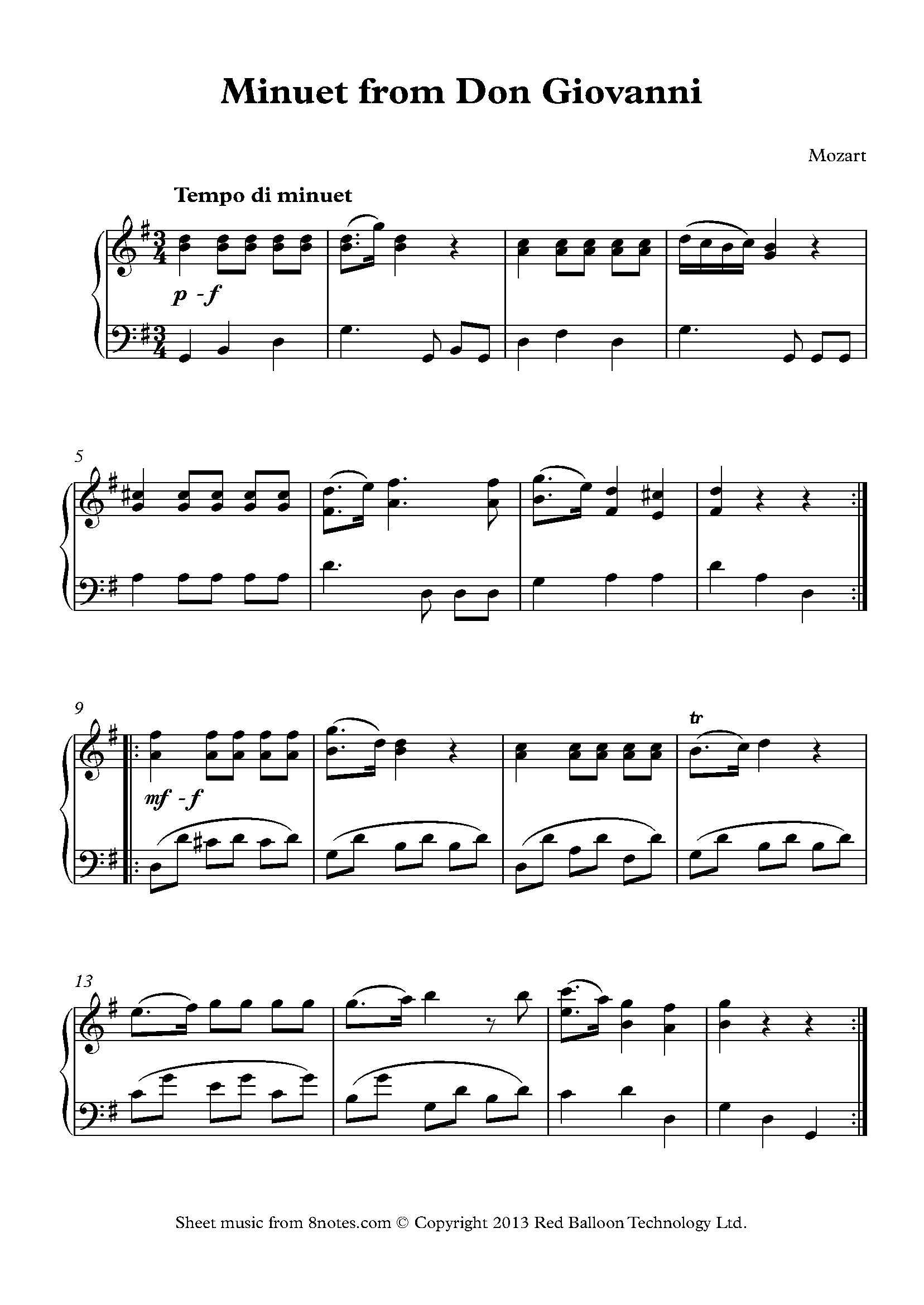 Minuet from Don Giovanni
"One fine day" is a soprano aria from the opera Madama Butterfly (1904) by Giacomo Puccini, set to a libretto by Luigi Illica and Giuseppe Giacosa. It is sung by Cio-Cio San (Butterfly) on stage with Suzuki, as she imagines the return of her absent love, Pinkerton. It is the most famous aria in Madama Butterfly, and one of the most popular pieces in the entire soprano repertoire.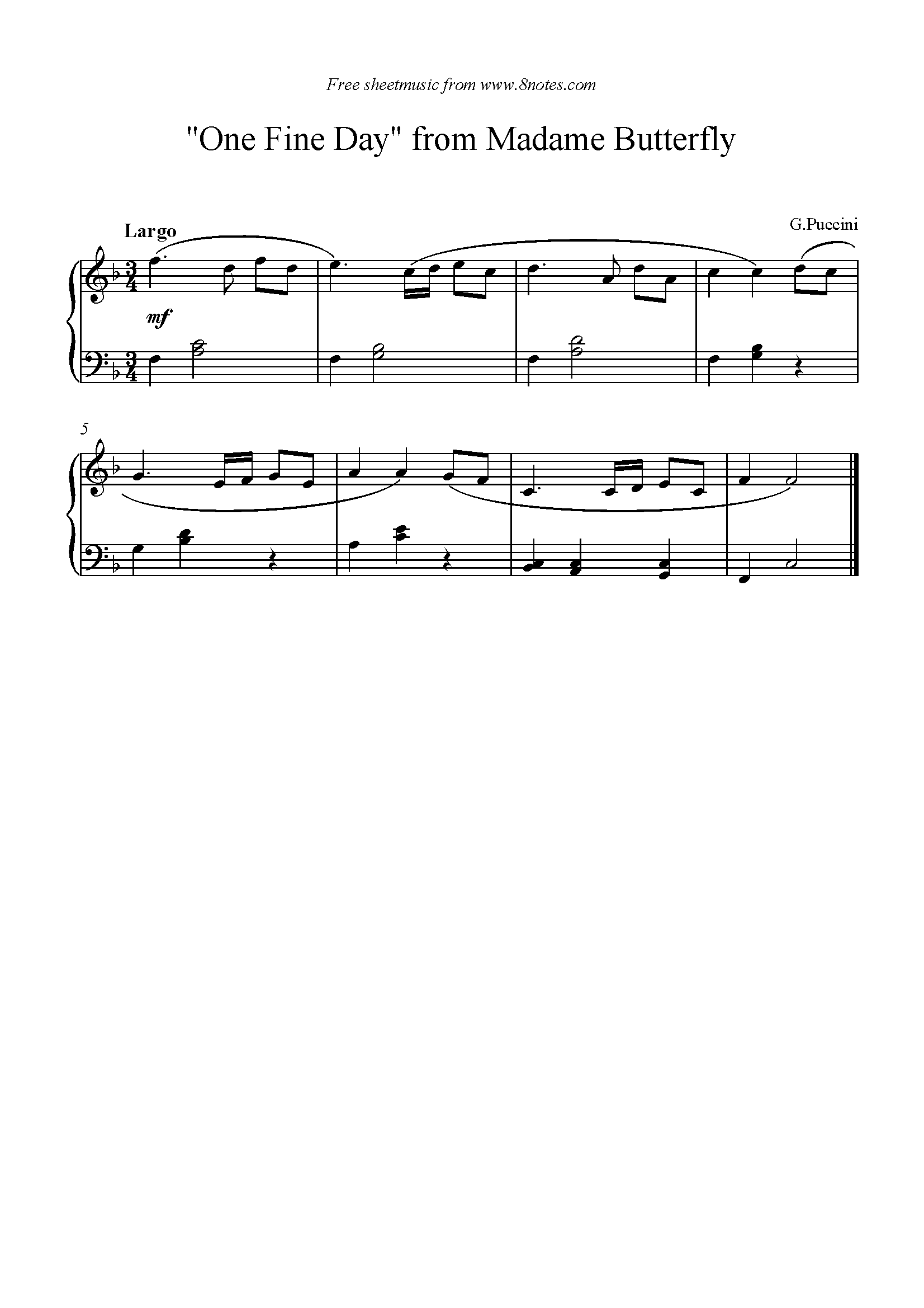 One Fine Day from Madame Butterfly